The Kingfish are Here to Challenge the Sails
Posted on: February 12, 2019
We wrapped up January and are surging well into February with continued nearshore and offshore action!
Sportfishing Report: Sailfish Just Keep Coming!
The Sailfish continue to show up in droves and are ready to eat nearly every bait that we throw at them! Our clients have been catching and releasing large numbers of Sailfish as our Fleet focuses almost exclusively on fishing live baits underneath our fishing kites.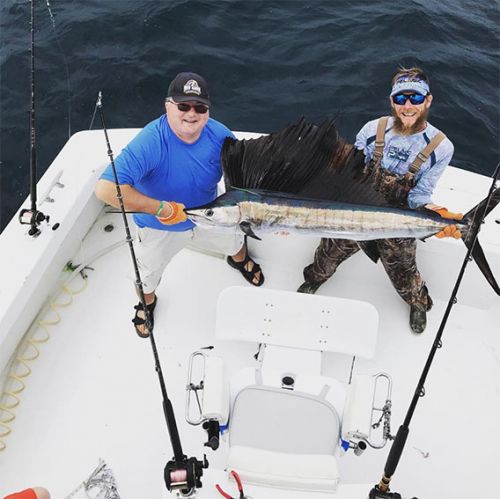 Kite-fishing is a truly amazing and engaging experience as you get to see the Sailfish AS THEY EAT the bait. Nothing gets the blood pumping like watching a double- or triple-header Sailfish bite up on the surface.We can fish up to three (3) live baits per kite, with at least two (2) kites up at any one time. We're fishing between 90 and 250 feet of water. We've also had luck shallower than 90 feet as we watch Sailfish cartwheel in the midst of Ballyhoo schools up on the reef.
When there is not enough wind to keep the kites in the air, we can also slow troll live baits such as Ballyhoo and Goggle Eyes as well as troll our specially-crafted mullet strips.

King Mackerel are Challenging Sailfish for Dominance!
King Mackerel ('Kingfish") have also set up shop on and near the reefs to pounce on our unwary kite baits and trolled baits and they have only gotten thicker – and hungrier. Kingfish have teeth that are more like surgical scalpels and they fight hard, which is why we call them "smokers" – they will smoke your drag on scorching runs once they're hooked. When they're not crushing our live baits under the kite or slow-trolled, Kingfish have also been responding to our strip baits trolled below the surface on planers along with as Islanders with ballyhoo in both the blue/white and red/black color combinations. We've been finding the Kingfish in between 70 and 150 feet of water.
The Wahoo are Stopping by to Say Hello!
Wahoos have also shown up to crush our kite baits and our Kingfish baits trolled behind planers. The only thing better than the screaming drags and intense fights with Wahoo are how Wahoo taste on your dinner table!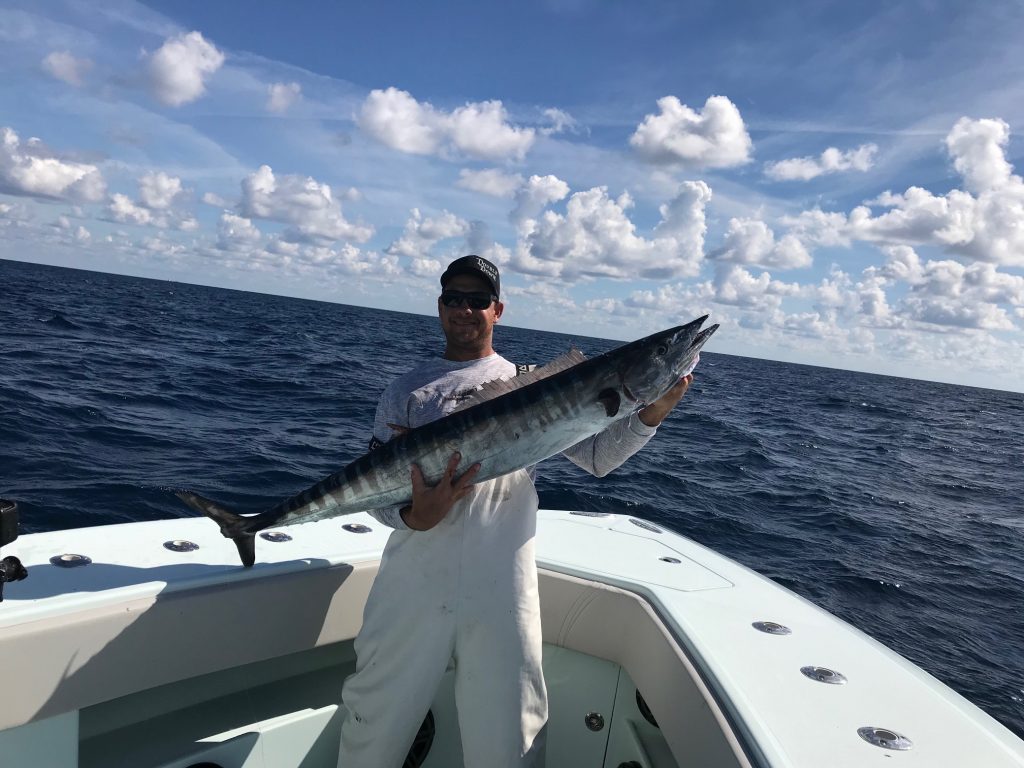 The Sharks are Keeping us Busy!
The shark fishing continues to be hot despite the chilly conditions, especially the big Hammerhead Sharks that are still in abundance!
Hammerheads are known as sluggers and are not afraid to pop up to eat a bait intended for species such as Sailfish, Kingfish or Amberjacks. Our clients love to tell their friends and family how they battled one of the most recognizable and renowned shark species the world over.
As for the rest of our shark fishing trips, we continue to put clients on big sharks, with each trip landing at least one shark, with most trips catching several. Caribbean Reef Sharks, Blacktips and Silky Sharks have been active. The best shark baits continue to be either a live Bonito or dead Bonito or Kingfish dropped down in 300 feet of water.
Drift Fishing Report:
Aboard the Lois Ann, we continue to run three -sometimes four – trips every day and returning with stuffed fish boxes and grinning clients. Throughout January and into February, we've been guiding our clients to catches of Yellowtail Snappers, Mangrove Snappers, Mutton Snappers as well as Kingfish and Amberjacks – and we're doing it in style and comfort!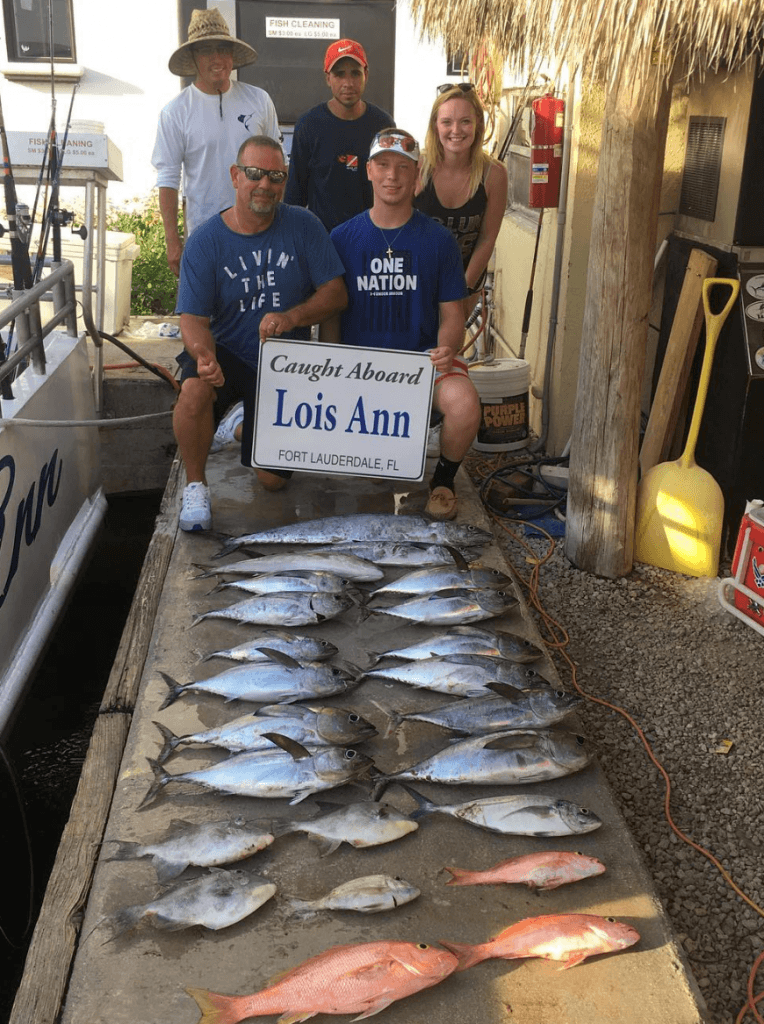 Don't forget about giving the Gift of Fishing to the angler in your family. Give us a call and we'll take care of everything. Just tell us the denomination of the Gift Certificate. Keep in mind that our Gift Certificates can be honored when booking any of the vessels in the Lady Pamela Sportfishing Fleet!
We hope that you'll join us to take advantage of this amazing offshore bite! Call today!
Tight Lines!
Captain David