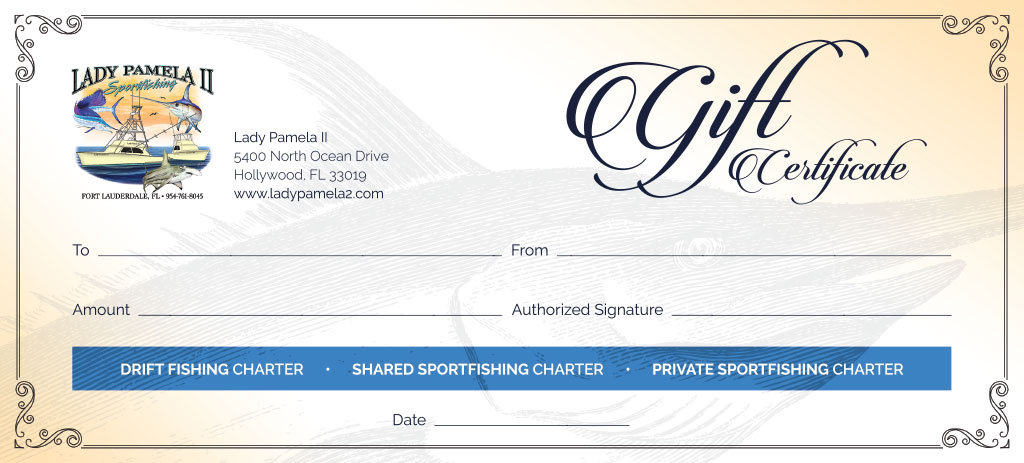 Gift certificates make the perfect gift for the fisherman in your family.  We have all given and received the same boring gifts year after year and, truthfully, your family fisherman just wants to do one thing: Go Fishing! 
Starting at only $70, your recipient can fish aboard our party boat solo or with family members and friends.  The ultimate gift is our private sportfishing experience aboard our luxury sportfishing yachts.  Join them to catch world-renowned species like Sailfish, Mahi Mahi, Tuna, Sharks and more. Come to think of it, is this a gift for them…or for you?
When purchasing a Lady Pamela Sportfishing Gift Certificate the, recipient will have the option to use it on any of our boats and at anytime. Simply order online by clicking the Purchase Gift Card button below to access our secure checkout process.
You choose the denomination of your gift certificate and the recipient can use it during the check out online.
Here are our current pricing and packages to give you an idea of the amount of the Gift Certificate:
Drift Charter $70 aboard our wonderful drift boat, the Lois Ann.  This is nice if the recipient would be content to fish with many other people. Opportunity to catch fish such as snapper, grouper, kingfish and more. This is a 4-hour trip.
Shared Sportfishing Charters $225.  This is on our sportfish boats with up to 6 other people.  You may purchase multiple trips of these if you are giving a gift to a husband and son. On this trip your recipient will have the chance to catch the bigger game fish such as Mahi Mahi, Sailfish, Tuna, Marlin, Sharks, Wahoo and more. This is a 4-hour trip
Private Sportfishing Charters $1000 (MOST POPULAR). There is a reason why we sell the

most private sportfishing gift certificates

 in South Florida.Your recipient will get the boat to themselves with up to 5 other people and the chance to catch big game fish and reel in themselves. Everything is including such as fuel, tackle, bait, ice and we clean your catch for you.  The boat is a custom sport fish that has a bathroom, a/c and a large cockpit with tower for spotting fish. This is the ultimate gift and is a 4-hour trip.