Private Sport fishing Charters – Big Game Fishing!
Note: Our standard private trips are for up to 6 people.  However we have boats that take 7 to 18 and 18 to 60. Please see our Large Group private charters.
At Lady Pamela Sportfishing, we are known for what we do best: Catch big fish offshore. And we do it in style on our Private Big Game  Deep Sea Charter Fishing Trip that is tailored especially for you and your party.  Our private sportfishing charters are the most popular and for good reason.
Our Lady Pamela 50' custom sport fishing boats deliver the perfect mix of speed, comfort and safety as you boldly troll or soak live baits in the cobalt blue waters off of Fort Lauderdale in search of some of the most highly-prized species that the Atlantic Ocean has to offer.
When you book your Private Deep Sea Charter, our captains work with you to create the fishing trip that YOU want and target the species that YOU want to catch. YOU call the shots. You want to go Shark Fishing? How about Mahi Fishing and our local restaurants cook up your fresh catch? Our offshore concierge services are designed to put you on the biggest fish possible while letting you soak in a beautiful day on South Florida waters.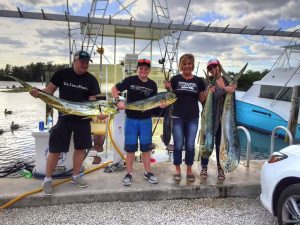 You can join up to five (5) of your friends, family – even In-Laws – along with you for your angling adventure (Have more people? Check out our large group charters.). After catching a few Sailfish or Mahi Mahi, take a break in the chilly A/C and have a drink or snack. Every one of our boats has a private bathroom so there's no reason not to bring the spouse and children. Our boats U.S. Coast Guard Licensed and Inspected so you know that you will be safe and sound on a large, stable boat regardless of the seas.
You will enjoy a hands-on fishing experience that caters to all anglers form beginners to world record holders.
* Up To 6 People
*We also have sportfishing boats for up to 22 and 60 people.
Ask about our large group charters.
On our 4-hour, 6-hour or 8-hour Private Sport fishing Charters we load the boat with top of the line tackle and bait to head anywhere from 1 mile off the beach to near Bahamian waters – whatever it takes to put our Private Anglers on the big ones. Once we start trolling or send the kites into the air, you can expect to catch: Bonito, Tuna, King Mackerel, Wahoo, Mahi Mahi, Sailfish and Cobia. You also never know when a Blue Marlin, Swordfish or Bluefin Tuna may decide to crash the party. Fishing in Fort Lauderdale is seasonal, every 2 – 3 months a new species migrates to our waters. Want to see what we're catching right now?
4 Hour Private Big Game Fishing (Up to 6 People)
Trip Length: 4 Hour
Trip Time: 8am-12pm / 1pm-5pm
Boat: Custom Carolina 50′
Target: Big Game Species: Mahi, Sailfish, Tuna, Kingfish, Wahoo, Bonita, White Marlin, Sharks
6 Hour Private Big Game Fishing (Up to 6 People)
Trip Length: 6 Hour
Trip Time: 7am-1pm / 1pm-7pm
Boat: Custom Carolina 50′
Target: Big Game Species: Mahi, Sailfish, Tuna, Kingfish, Wahoo, Bonita, White Marlin, Sharks
8 Hour Private Big Game Fishing (Up to 6 People)
Trip Length: 8 Hour
Trip Time: 7am-3pm / 8am-4pm
Boat: Custom Carolina 50′
Target: Big Game Species: Mahi, Sailfish, Tuna, Kingfish, Wahoo, Bonita, White Marlin, Sharks
BOOK YOUR TRIP TODAY! Call Us: 954-761-8045