Shark Fishing Charters
Voted Top Shark Fishing Charter by ReelReports.com 2013-2015
Disclaimer: 99% of the sharks we catch are tagged and released for research. We have a long standing relationship with NOAA Fisheries where we notify them every shark we tag.  In cases when we catch a Mako shark (high edible) and our clients want to eat the fish, we will bring it back to the dock and provide our clients with the great catch.  We also will have NOAA meet us at the dock to take tissue samples for more research and to protect sharks for the future.  We tag more sharks than any other boat in the state for conversation.  It is very rare that we take a shark.
Now that you have the facts, here's a bit about our awesome shark charters:
Sharks are one of the most favored game fish in the waters of the world and Fort Lauderdale and Miami have some of the most productive shark fishing on the Southeast coast. When it comes to targeting a large game fish, South Florida fishing offers several shark species to fill the orderThe infamous Hammerhead shark, Thresher shark, aggressive Bull shark and Mako shark move on in as they are Fort Lauderdale "locals" for a few months. Millions of sharks migrate through South Florida waters every year in search of food and to mate with others. Sharks are truly a unique predator; they will search for their next meal through out the entire water column.
Here is a Mako Shark this family caught on Fathers Day!
Game Sharks are infamous for hanging around our Fort Lauderdale and Miami native reef lines and accompanying our ancient shipwrecks. Our deepest natural reef is roughly one mile off shore and houses several varieties of food and bait fish which forms an active food chain that leaves these primary predators at the top. South Florida's steady flow of warm water makes Fort Lauderdale and Miami a hot spot for game shark activity.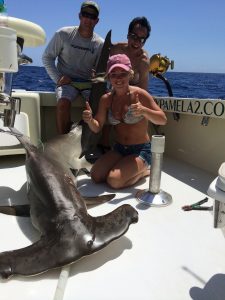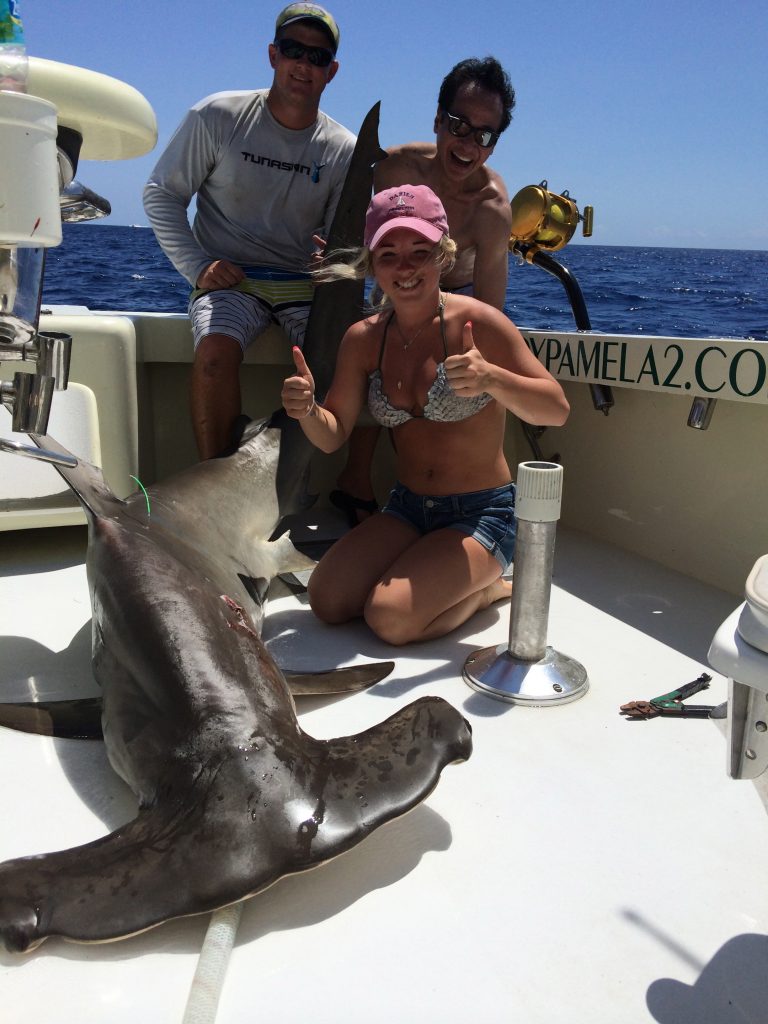 Unlike Dolphin or Wahoo, people don't generally care for the taste of shark; it doesn't make a mean smoked fish dip. Shark meat isn't a popular snack due to the fact that they urinate through their skin giving the meat an ammonia-like flavor and scent. The roughly textured skin of sharks is similar to sandpaper. They aren't too tasty but they're beautiful fish and a blast to fight!
Every year, between the months of March and August, the big game sharks run a massive migration northward along the South Florida coastline. In March, sharks are king. During Shark season in Fort Lauderdale, we fish both dead and live baits. Preferred live baits for Fort Lauderdale shark fishing consists of blue runners and big silver mullet. Throw out a tasty, bloody bonito or an oily king fish head and it really turns them on. Bolt to the drop-off, about a mile offshore and it's only a win win situation. You've got a pretty good chance of fighting a giant hammerhead shark, thresher shark, or any of those prehistoric predators for a decent amount of time; you won't be disappointed. Razor sharp forged hooks and heavy duty 400 pound test will allow the angler to hang on with suspense when a large game shark puts up a battle. Game Sharks are the toughest fighting fish Fort Lauderdale has to offer, especially when they are hooked with a shiny, serrated 11/0.
Our shark fishing charters are done primarily on our private sportfishing charters with up to 6 people.  However we catch monster sharks on our drift boat fishing as well. To book your shark fishing charters, please reserve your date online.
We were voted the top shark fishing charter in Florida by ReelReports.com for the past 5 years. We know our sharks and catch a lot of them.  Get ready to jump in the chair and battle one of these amazing game fish. Be prepared for a tough fight as they don't give up easy and some of our sharks go over 300 pounds!
Take a look at these exciting shark fishing charters and pictures:
BOOK YOUR TRIP TODAY! Call Us: 954-761-8045