Sailfishing Charters
Join Us as we chase one of the fastest species in the Atlantic Ocean
Few gamefish are so intimately associated with South Florida as the might Atlantic Sailfish. Anglers of all experience levels travel to South Florida from all over the world for the chance to tangle with this beautiful, acrobatic and lightning-fast species.
Here at Lady Pamela Sportfishing, we are ideally-suited and positioned to help you get "up close and personal" with Sailfish and here are just a few reasons why:
Our fleet is closer to Port Everglades Inlet than any other charter operation. This means that we get you to the Sailfish bite quicker and you get to fish it longer
The Gulf Stream approaches very close to our coast. This means that Sailfish seek out the warm water, baitfish and nutrients that the Gulf Stream deposits on our reefs and nearshore waters
Kite Fishing was Born Here. One of the most effective and visually exciting ways to catch Sailfish is to use Fishing Kites to suspend live baits right on the surface of the water. This makes for thrills and chills as you literally watch  the Sailfish slash at the bait like some sort of swashbuckler followed by the clip releasing with a "smack" and line peeling off the reel. The art of Kit Fishing was developed and refined right here in South Florida and nobody Kite Fishes better than the Lady Pamela Sportfishing Team
When the wind isn't strong enough to keep our Fishing Kites in the air, we have other ways to target Sailfish with live baits as well as with trolled baits
Like most of our visitors during the Fall and Winter, Sailfish love to come to South Florida to escape the colder waters and conditions. This means that huge pods of Sailfish can be found offshore as the thermometer dips and the winds pick up. It is not unusual to have 2, 3 or even 4 Sailfish hooked up at any one time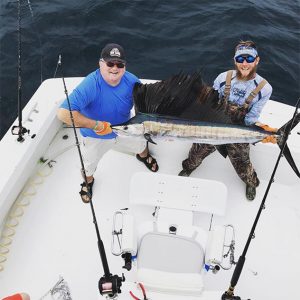 Here at Lady Pamela Sportfishing, we take conservation seriously. This is why we release Sailfish once we can take a few pictures with you and take some measurements. Taking accurate measurements, and sometimes tagging the Sailfish, help to get a better understanding of the growth rates, feeding habits and migration paths of these beautiful fish. In addition, we take measurements and pictures so that you can have an authentic replica mount crafted by a respected local Taxidermist. Be sure to ask your Lady Pamela Sportfishing crew for details. 
As a bonus, you never know which other offshore species might decide to "crash the party" when we have our Kite Baits out. Mahi Mahi, Wahoo. King Mackerel, Cobia, Barracuda, Tuna, even the occasional White Marlin or Hammerhead Shark may appear under a live bait suspended under our Fishing Kites!
Our Sailfish Charters are fished aboard our private sportfishing vessels and we can accommodate large groups – something that no other South Florida charter operation can promise. To book your Sailfish Charter, please reserve your date online. We know how to target Sailfish and we catch a bunch of them.  Get ready for your party to be hooked up with multiple Sailfish as they cartwheel on the top of the water as "cockpit chaos" takes hold. Come join us!