What a weekend! For those of you who had the chance to fish with me this weekend, I want to thank you as we hope you had just as good of a time as we did. Please read to the end of this report for your VIP coupon of the week to show my appreciation!
Now on to the report…
The highlight of the week has been Thresher Sharks and Bluefin Tuna. If you have never seen one of these sharks in person, it is truly one one of the oceans coolest and a must catch bucket-list fish. With their enormous eyes as well as even bigger tail, these fish are pure hunters and they are very good at it unlike many sharks that are scavengers.


A thresher shark will look for a school of baitfish and come up from below and wack it with the long tail in a furious manner. A quick circle and they come back to eat the stunned fish. This tail is extremely powerful and when we have these fish boatside we are very careful not to get smacked.
In this picture you can see the gigantic tail used for hunting prey:
As rare as these catches are, we actually caught and released 2 in the past few days. This is quite the trophy catch when it comes to big game fishing as well as targeting sharks. If you are looking to target sharks, now is your time as we are getting various other species such as big bulls, great hammerheads, and numerous other species.
Bluefin Tuna In South Florida?
Yep, you read right. I have been seeing a good amount of bluefins migrating south while we are out kite fishing or trolling the deep part of the edge. We will be looking for them a bit more aggressively this week and each boat has a large big game rod ready to go if we get the opportunity to feed one. Who's going to reel it in?
Check out this one I got up north last year: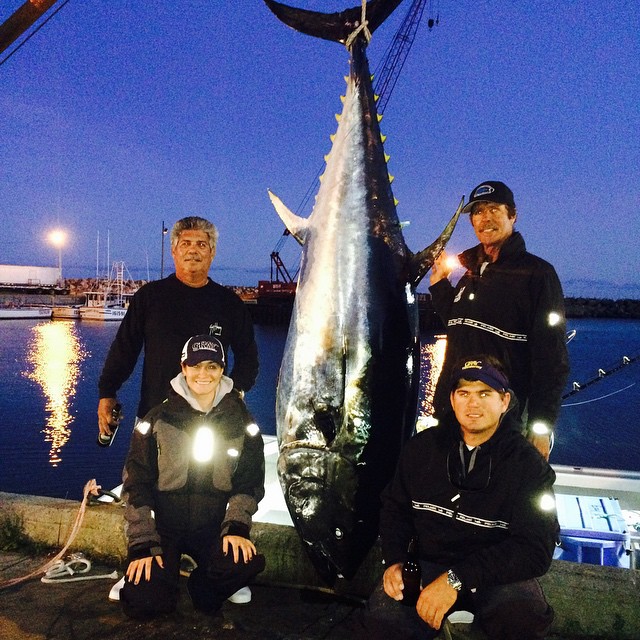 And now for my VIPs and only available through this fishing report. Please join our mailing list to get an offer that is not posted online.
Tightlines and Good Fishing,
Captain David