Check out these grouper caught by our Junior Anglers yesterday!  Way to go guys!  Taking kids of all ages and introducing them to fishing is one of our top passions.  No matter the age or experience level, we have something for each and everyone of them and all our charters are extremely child friendly.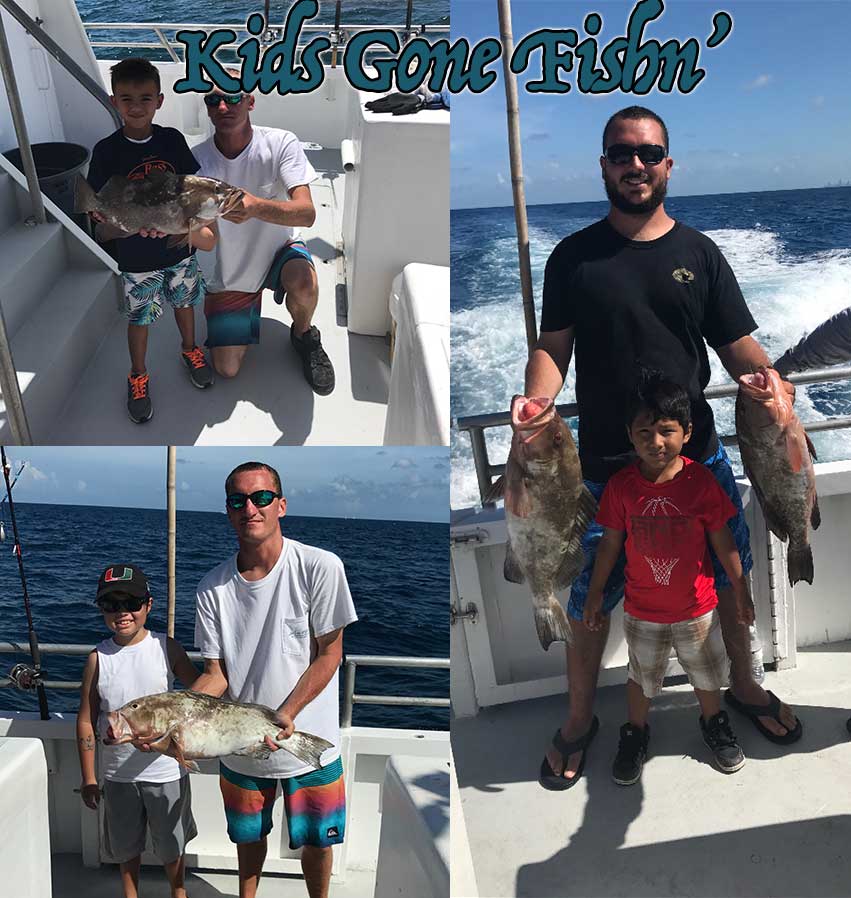 What makes our charter kid-friendly
Each boat has a captain and a mate to keep the cockpit clean of tackle, help with the reeling, baiting and explanation of the fishing.
Answer all questions their inquisitive minds may have.
Keep them involved as much as we can so they don't get bored.
Teach them safety when handing the fishing rods, tackle and their catch.
Don't forget about our kids fishing birthday parties as well.
The drift boat has been seeing some great snapper and grouper on the backside of the recent full moon we have.  The grouper have been caught on dead pilchards and ballyhoo.  The 5 hour anchor and chum trips have been seeing some great fish including muttons, yellowtails, porgys, big grunts and triggers.
The sportfishing boats have been seeing awesome amounts of kingfish, bonita, and small tuna over the reef. Trolling bonita strips has been best.  There has also been sailfish on the deeper side.
Further offshore the Mahi fishing is still extremely strong!  The strongest July in a long time! As I write this report some of the boats are reporting a migration of bigger fish today with some bulls going around 30-40 pounds.  Big difference from last couple weeks as all we were finding was the schoolies and peanut sized fish.
Frigate birds flying low have been the best chance to find the bigger fish and there is still no shortage of smaller fish around.
I'm still considering the all day mahi trip on the Lois Ann this Thursday if we get enough reservations in advance.  The price will be $125/person for 8 hours.  If you are interested, please call me now so I can get a head count 954-761-8045.  Otherwise we will be doing our drift trips as normal.