The Lady Pamela Sportfishing Team started 2021 the same way we ended 2020: Providing our clients with the most exciting offshore action in all of Southeast Florida!
We hope that all of you enjoyed a blessed holiday season and celebrated the New Year with family and friends. We've ushered in the New Year with some of our favorite friends too: Wahoo, Sailfish, Kingfish, Blackfin Tuna, Barracuda, Groupers, Snapper and Sharks!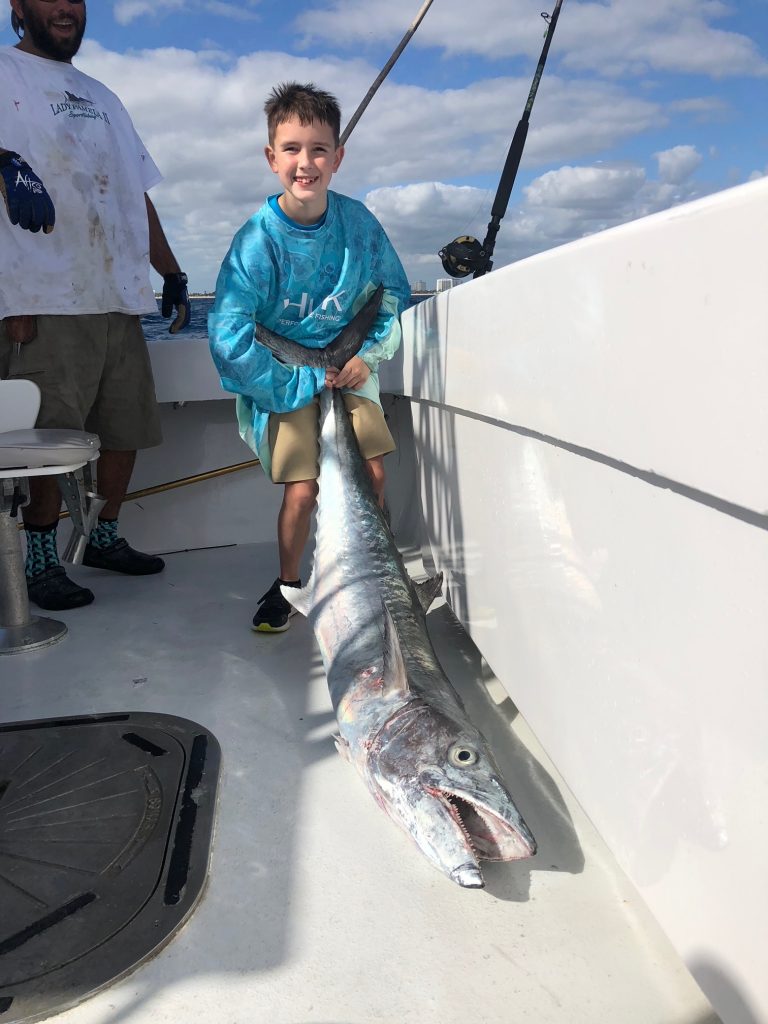 Before we get into our Fishing Report, on behalf of our entire Lady Pamela Sportfishing Family, I would like to wish you and your family a Healthy and Happy 2021 with many happy returns!
We remain open for business and the entire Lady Pamela Sportfishing Team is in full compliance with all CDC and local health guidelines to do our part to keep everyone healthy.
NOW is the time to book your winter fishing trip now that the bite is on here in lovely South Florida! Our January and February trips are booking up as people look to escape the cold weather up north but also because the State of Florida is one of the "open" states in the midst of the pandemic.
SPORTFISHING REPORT: YAHOO! PLENTY OF WAHOO!
The Winter Wahoo bite has gotten the New Year off of a drag-screaming start! We can't remember when the Wahoo bite has been this good – and consistent. These striped torpedoes have been so plentiful and big that we're having to service our drags nearly every day! These fish can turn your reel into molten lava if you're not careful. Fortunately, our Lady Pamela Sportfishing crews are well-versed with all things Wahoo and stay in control.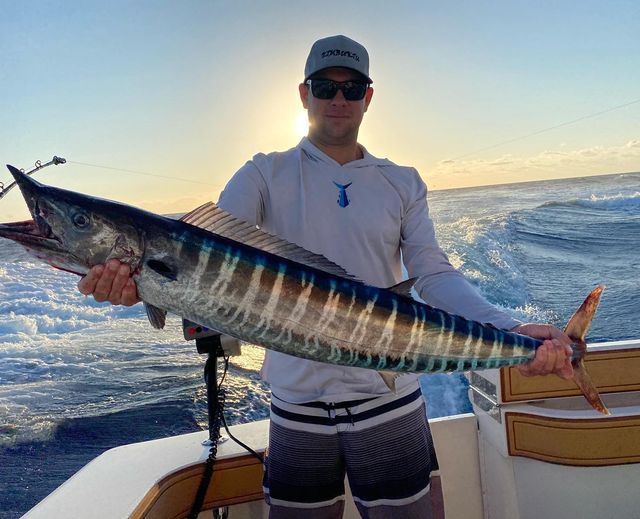 Wahoos have been crushing slow-trolled live "bullet" Bonitos anywhere from 150 to 400 feet of water, along the clean water edges. The Wahoos have also responded well to our strip baits trolled below the surface on planers and Islanders rigged with horse ballyhoo in both the blue/white and red/black color combinations.
WINTER SAILFISH ACTION!
The Sailfish are in town and tearing up the baits. Our world-famous Sailfishing is what built our offshore winter fishery. Our clients have been putting up big numbers of Sailfish catches and releases as our Fleet focuses almost exclusively on fishing live baits underneath our fishing kites.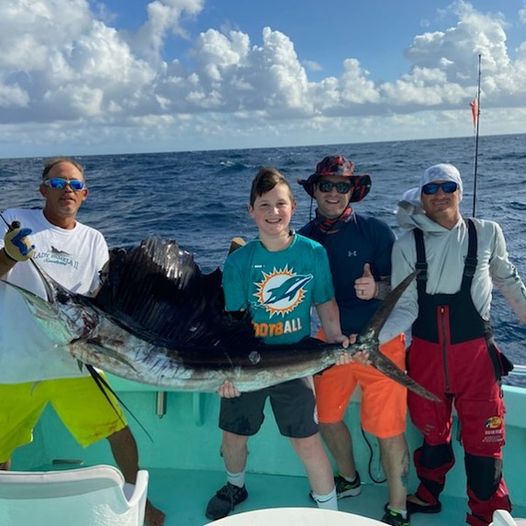 Kite-fishing is a truly amazing and engaging experience as you get to see the Sailfish AS THEY EAT the bait. Nothing gets the blood pumping like watching a double- or triple-header Sailfish bite up on the surface. We can fish up to three (3) live baits per kite, with at least two (2) kites up at any one time. We're fishing between 90 and 250 feet of water. We've also had luck shallower than 90 feet as we watch Sailfish cartwheel in the midst of Ballyhoo schools up on the reef.
When there is not enough wind to keep the kites in the air, we can also slow troll live baits such as Ballyhoo and Goggle Eyes as well as troll our specially-crafted mullet strips. When we're trolling live Ballyhoo, the occasional White Marlin shows up in the spread, just to make life REALLY interesting.
MORE TOOTHY CRITTERS ON THE BITE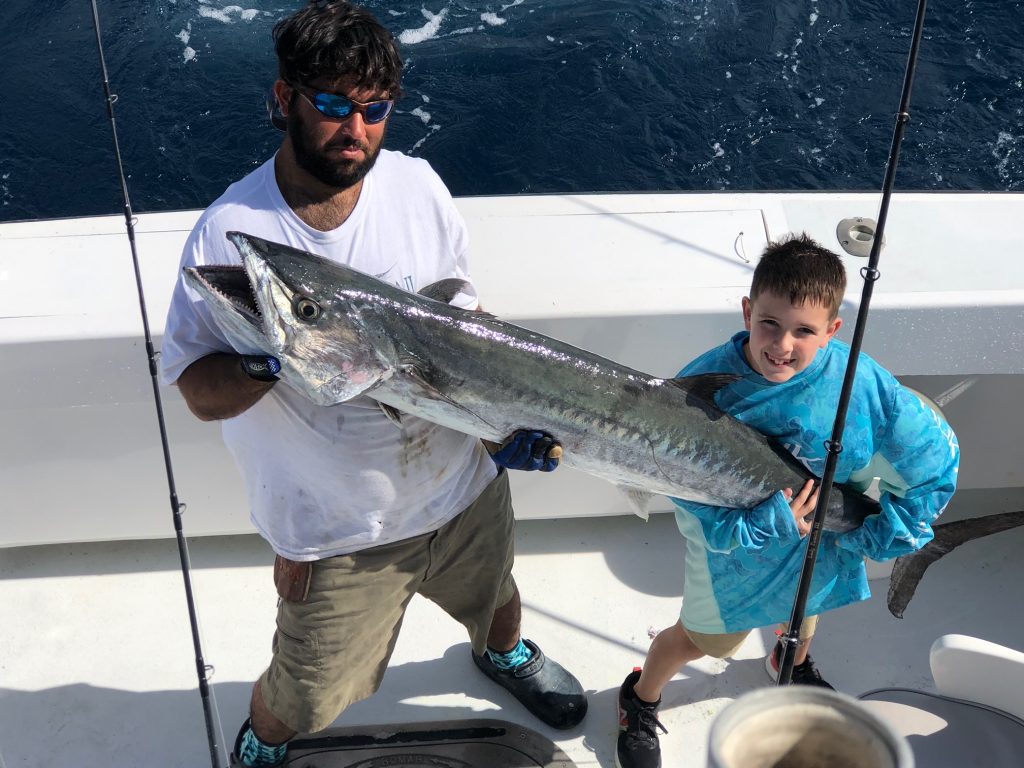 King Mackerel ('Kingfish") and Barracuda continue to sharpen their teeth up on the reef. Like Sailfish, Kingfish absolutely love to crush a live bait suspended beneath our kites. Kingfish have teeth that are more like surgical scalpels and they fight hard, which is why we call them "smokers" – they will smoke your drag on scorching runs once they're hooked. We have to fish wire leaders to make sure we don't miss these acrobatic bites.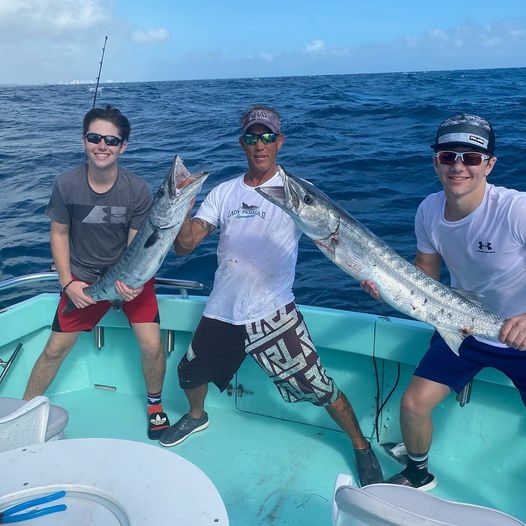 The Barracuda are lurking on the reefs to ambush the unsuspecting baits as well. Check out the double-header Barracuda catch above!
SHARK FEEDING FRENZY!
We continue to catch some acrobatic Blacktip ad Spinner Sharks as the winter feeding pattern sets in. We're also getting shots at Hammerheads and Tiger Sharks. You had better "eat your Wheaties" because these sea monsters don't give up when hooked.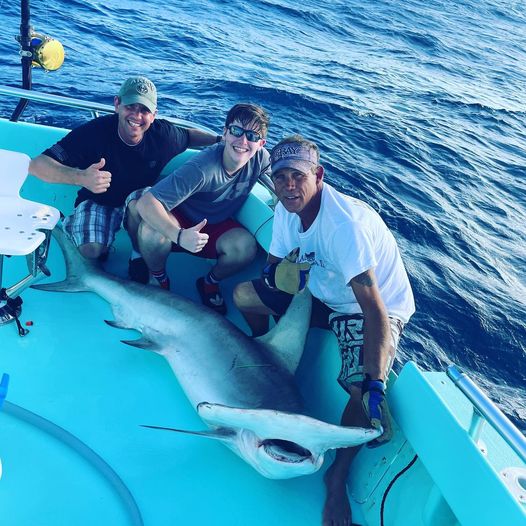 Check out this huge Hammerheads above and below!
DRIFT FISHING REPORT: LOIS ANN CATCHING FISH FROM TOP TO BOTTOM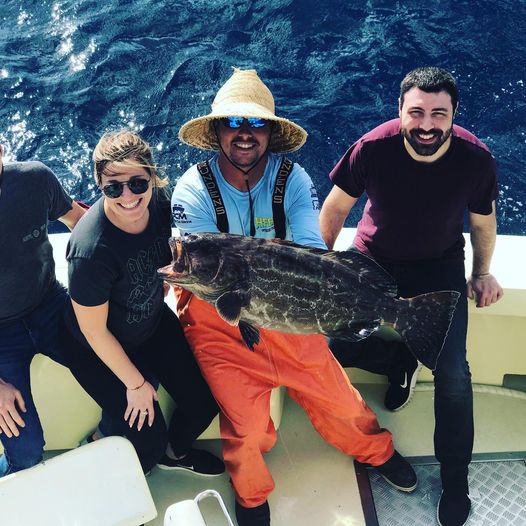 The Lois Ann has been guiding our customers – 3 trips each day – to catches all along the water column: From Kingfish and Bonitos on the top to Red and Black Groupers and Vermilion Snappers on the bottom -and everything in-between including Barracuda and Amberjacks.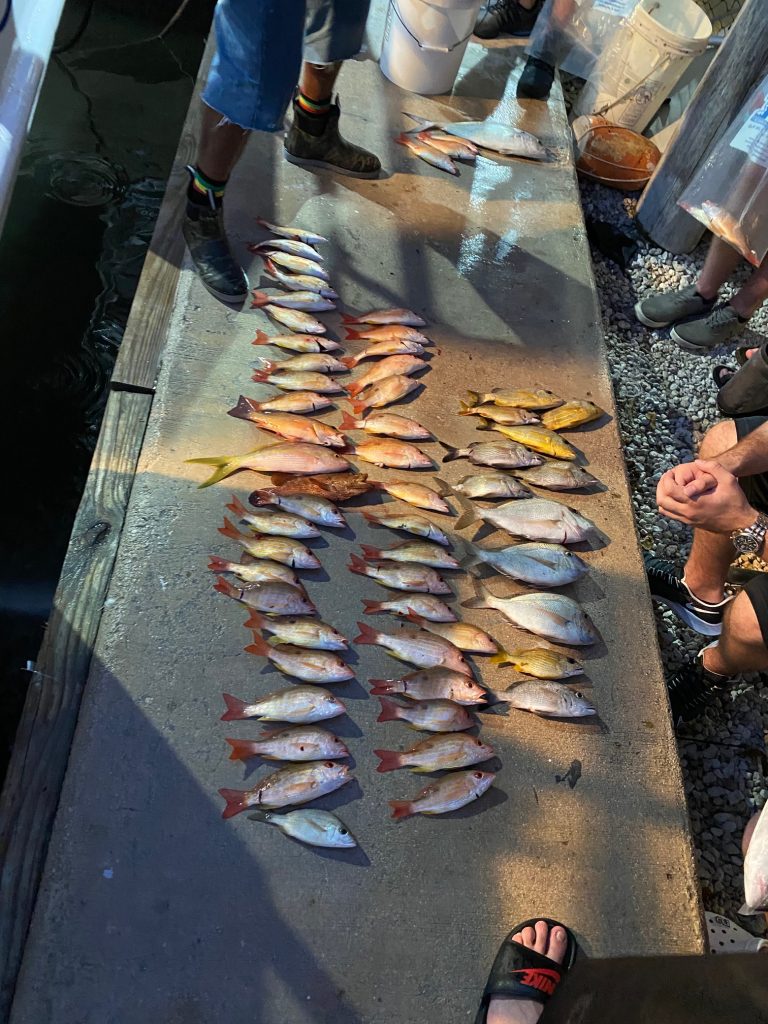 Keep in mind that the Lois Ann is limited to a certain number of anglers per trip due to CDC guidelines. This is great news for YOU as you have plenty of room to fish multiple lines! Book a trip NOW to get in on this amazing action after the sun goes down.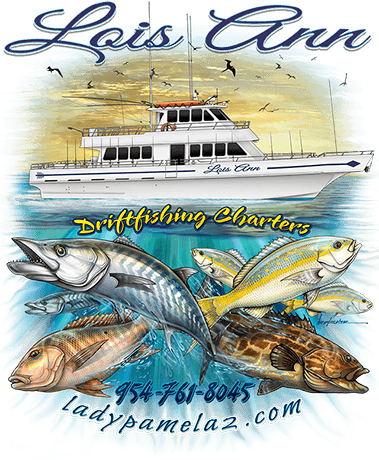 For only $65, come on aboard and gain access to some of the hardest-fighting and tastiest fish that swim. We're the best fishing value in all of South Florida! Remember all ages and experience levels are always welcome. We have a captain and mate on board to help you at all times. We also have one of the cleanest vessels in the southeastern US and we have a fully-stocked galley to keep you hydrated and well-fed!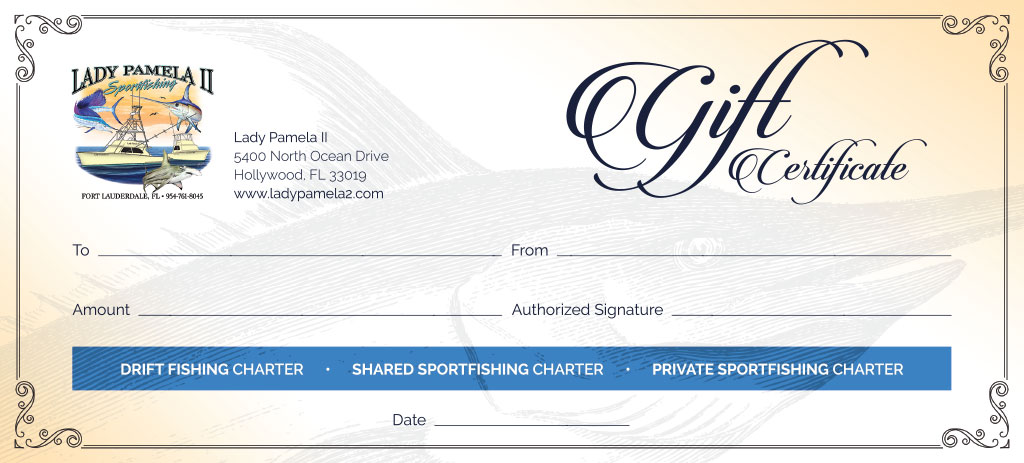 Don't forget about giving the Gift of Fishing to the angler in your family! Lady Pamela Sportfishing Gift Certificates make for the perfect Christmas Gift, especially for you last-minute shoppers out there! Give us a call and we'll take care of everything. Just tell us the denomination of the Gift Certificate. Keep in mind that our Gift Certificates can be honored when booking any of the vessels in the Lady Pamela Sportfishing Fleet!
Happy New Year and Tight Lines!
Captain David