What a crazy June it has been here at Lady Pamela Sportfishing. We have been fishing 3 trips daily going non-stop.  Our new customers have been absolutely incredible to fish with. We also had the opportunity to fish with many repeat customers which is what our business is all about.   And our junior anglers off for summer break are doing amazing at reeling in trophy game fish while learning about our fishery and conservation.
As we leave the marina each day, the seas have been flat calm with hot and steamy temperatures.  The early morning trips and evening trips have been doing the best for those that want to hide from the heat.  Each day is different, but one thing that remains the same is the amount of seaweed still in our area.  I haven't seen this much seaweed in years.  It is pretty incredible and we have been using it to our advantage to find the fish.
Rescue At Sea!
And to top it all off, we saved several people from a burning charter boat! Captain Gino and mate Sean did an amazing job getting the crew off the burning vessel to ours before she sank shortly after off Fort Lauderdale beach.Check out the full story from WPLG10.  I'm so proud of our crew and happy everyone is OK.
Now let's get to the fishing…
Sportfishing Report:
Inside 150 feet there has been a ton of bonito around.  Along with bonita we are getting smaller kingfish about 7 to 10 pounds.  Trolling planers with sea witches has produced best to get baits deep to where the fish are holding.  Just check out our group here with a cooler full of fish before we hit the filet tables.


There have also been some sailfish around on the edge.  On this very same trip, the guys released a nice one that ate the short bait.  The edge has been pretty clearly defined. This is where the blue water and green water meet.  It acts as funnel for bait to game fish and often times is where we spend most of our day trolling.
As we move further offshore, we have been searching for mahi.  With all the seaweed out there, it is important to know what you are looking for as not every big beautiful patch is holding them.  Although for about a week, we had a monster push of them and they were just about everywhere.  But now you need to look for frigate birds, terns or flyers being pushed out of the water.  These are sure signs that the mahi are around.  However, it is hit or miss.  So if you want to do a mahi only trip right now, I recommend you do a full day so we can venture out further.  Last I heard the schools were out past the swordfish ground which is over 20 miles out.  Ask me if our 34′ SeaVee is booked if you really want to catch mahi and we will take that boat so we can cover ground even faster.
Shark Fishing:
The most consistent fishing right now is the shark fishing trips.  We have been fishing for them just about daily and each trip has caught 1 and some have had multiple fish.   Check out this video of a wonderful family we were lucky enough to fish with that caught 2 hammerheads after the fish swarmed the kite baits.  We had it all on video!
Check out this bull shark our junior angler of only 11 caught and had mounted after the tag and release.  Way to go!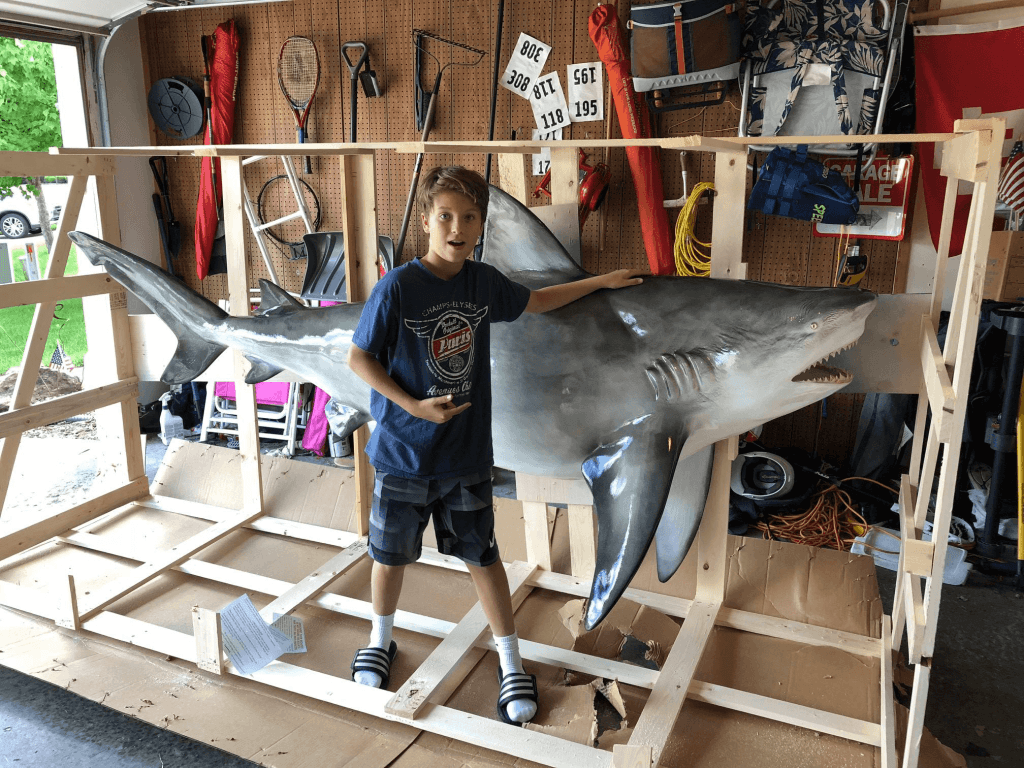 Drift Fishing Report:
The Lois Ann has been running trips 3 times a day.  Our day trips have actually been doing a bit better than the night trips, but I expect that to change any day now.  We are coming off the full moon, so I expect the snappers to get into a rhythm on the night time anchor trip.  This is also a great opportunity for you to escape the heat.
Tomorrow we will be running fishing trips during the day and then onto our Annual 4th of July fireworks cruises, so there will be no snapper night trip tomorrow.  We still have a few boats available if you want to join us.  It is a great time on the water and a chance for you to escape the crowds and see the fireworks up close and personal with your family.
Tight Lines,
Captain David