As the holidays draw ever closer, we've been opening our "offshore presents" aboard the Lady Pamela Sportfishing Fleet before Santa can deliver them.
Before we get into our Fishing Report, on behalf of our entire Lady Pamela Sportfishing Family, I would like to wish you and your family a Healthy and Merry Christmas or Hanukkah! We hope that you can enjoy all of life's blessings in this wonderful time of giving and gathering with family.
We would also like to take this opportunity to express our sincere thanks and appreciation to every single one of our incredible clients who fished with us aboard the Lady Pamela Sportfishing Fleet in 2020! You are the "reason for the season" all year long and we very much look forward to fishing with you in 2021. While you are visiting family in South Florida or simply escaping the cold weather for a few days, why not spend time with your family experiencing some of the best offshore fishing of the season?
We remain open for business and the entire Lady Pamela Sportfishing Team is in full compliance with all CDC and local health guidelines to do our part to keep everyone healthy.
NOW is the time to book your holiday/winter fishing trip now that the bite is on here in lovely South Florida! Our December and January trips are booking up as people look to escape the cold weather up north.
Don't forget to give the gift of fishing this holiday season! Lady Pamela Sportfishing Gift Certificates are available NOW!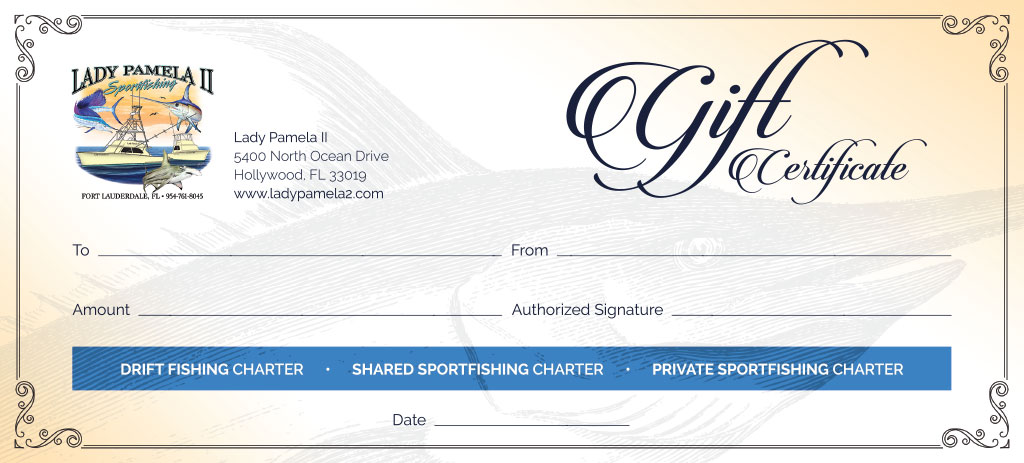 SPORTFISHING REPORT: HOLIDAY SAILFISH!
We've enjoyed a few cold fronts since November, with more on the way as we come up on January – for us in South Florida, a "cold front" is when the mercury dips below 60 degrees – and they have triggered the winter bite. The Sailfish are in town and tearing up the baits. Our world-famous Sailfishing is what built our offshore winter fishery. Our clients have been putting up big numbers of Sailfish catches and releases as our Fleet focuses almost exclusively on fishing live baits underneath our fishing kites.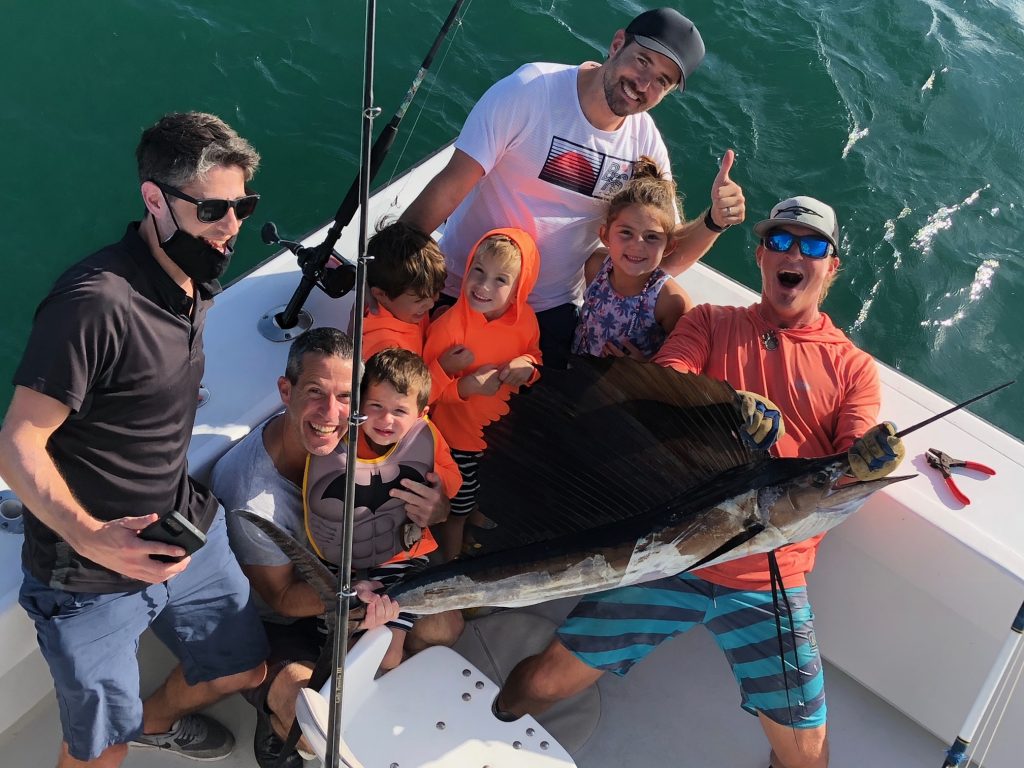 Kite-fishing is a truly amazing and engaging experience as you get to see the Sailfish AS THEY EAT the bait. Nothing gets the blood pumping like watching a double- or triple-header Sailfish bite up on the surface. We can fish up to three (3) live baits per kite, with at least two (2) kites up at any one time. We're fishing between 90 and 250 feet of water. We've also had luck shallower than 90 feet as we watch Sailfish cartwheel in the midst of Ballyhoo schools up on the reef.
When there is not enough wind to keep the kites in the air, we can also slow troll live baits such as Ballyhoo and Goggle Eyes as well as troll our specially-crafted mullet strips.
LATE-SEASON MAHI MAHI
The Mahi Mahi have simply refuse to leave! Of course, the Mahi are welcome guests for as long as they care to wallop our baits. The Mahi have been eating nearly every and any bait that we put in front of them, from live kite baits to strip baits and artificials. Join us to get in on this late-season bounty.
AMAZING LATE SEASON TUNAS TOO!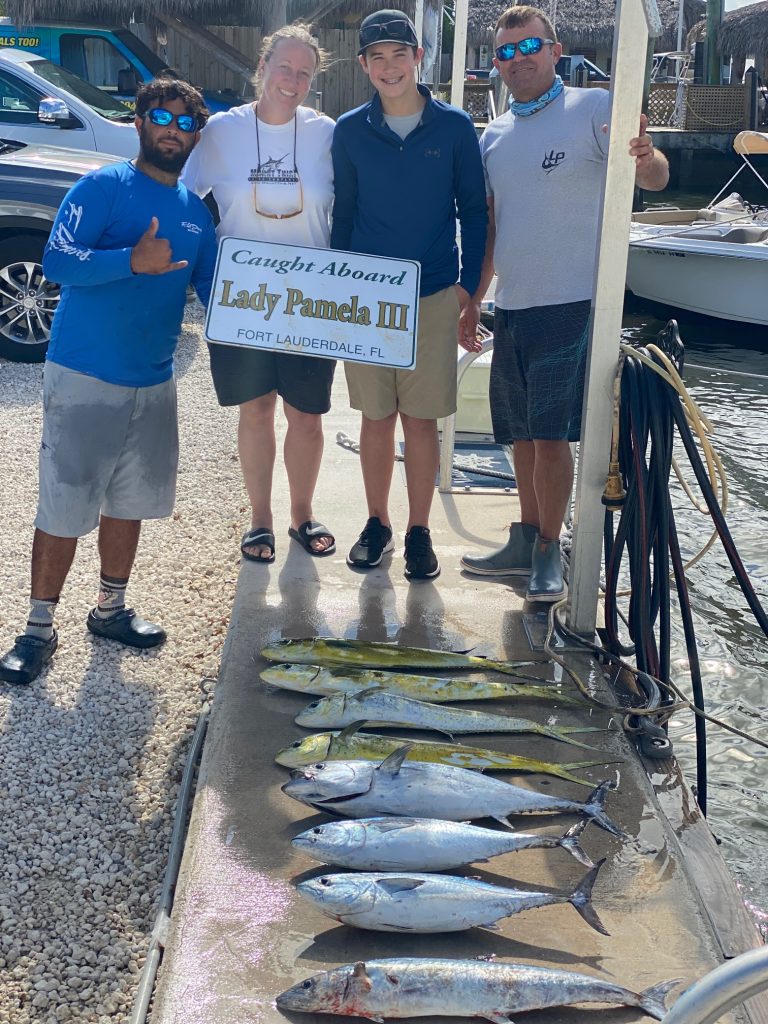 We're enjoying an amazing late-season push of Blackfin Tunas that are pounding our Mahi Mahi and Kingfish baits. Check out this post-Thanksgiving butterball!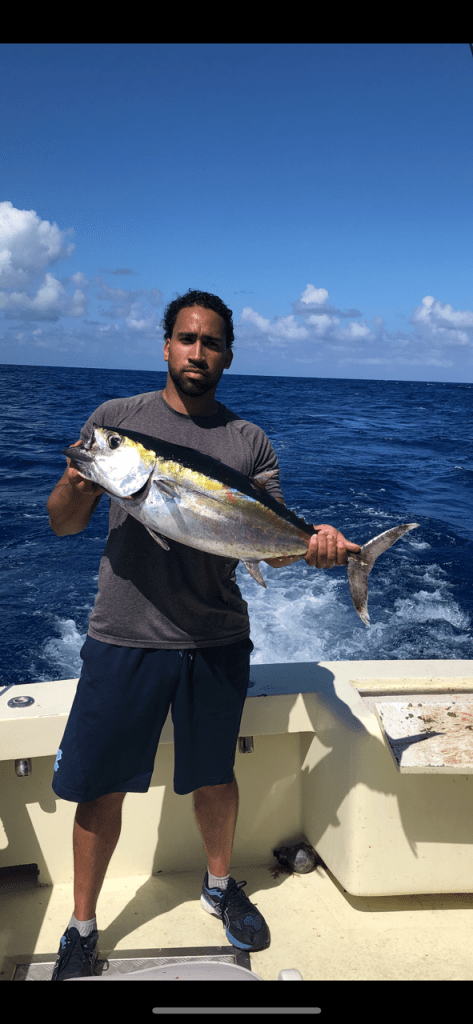 CHRISTMAS IN WAHOO-VILLE!
The recent moon phases continue to provide a winter Wahoo bonanza! One of the fastest fish in the sea, Wahoos can melt drags and break hearts if you're not ready for them. Fortunately, the Lady Pamela Sportfishing Team is ready, willing and able to tame these shiny, striped torpedoes.
The December Wahoos have been crushing our strip baits trolled below the surface on planer along with as Islanders with ballyhoo in both the blue/white and red/black color combinations. We've been finding the Wahoos in between 150 and 350 feet of water. We've also hooked a few Wahoo fishing live bullet Bonitos over the wrecks for Amberjacks and Black Grouper. Few things make an angler weak in the knees like watching a Wahoo empty your spool on one of their patented runs! After a long fight and bringing a Wahoo aboard, you'll enjoy the fact that you get to invite a tasty fish home for dinner.
KINGFISH & BARRACUDA SMOKING DRAGS TOO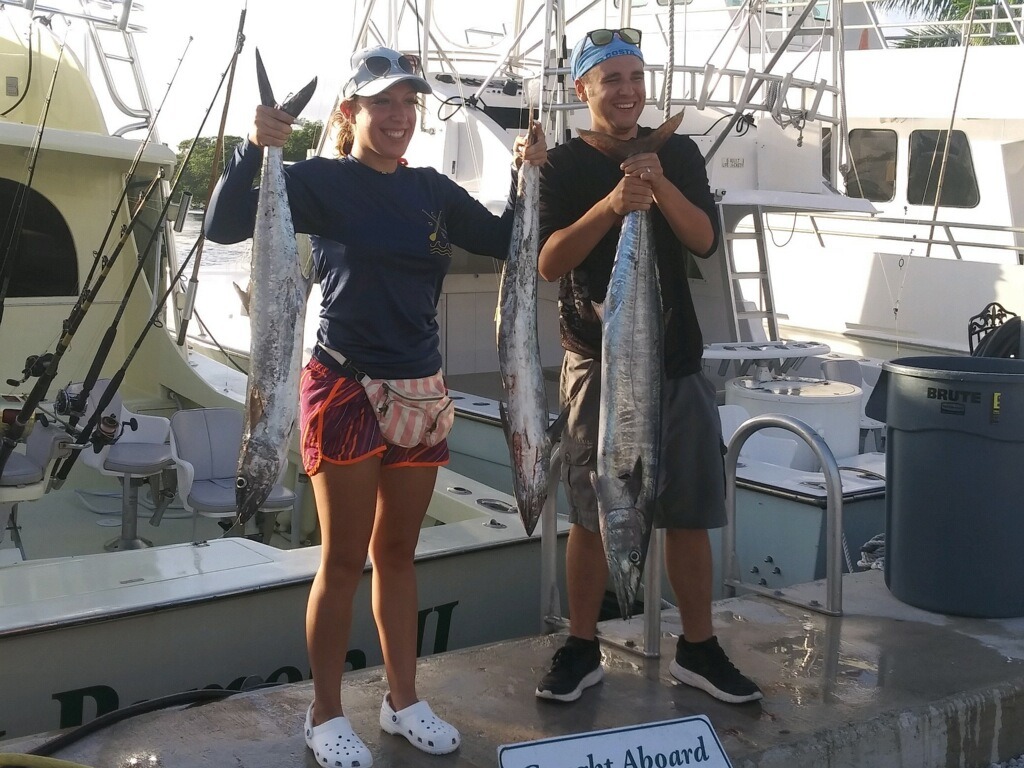 King Mackerel ('Kingfish") and Barracuda continue to sharpen their teeth up on the reef. Like Sailfish, Kingfish absolutely love to crush a live bait suspended beneath our kites. Kingfish have teeth that are more like surgical scalpels and they fight hard, which is why we call them "smokers" – they will smoke your drag on scorching runs once they're hooked. We have to fish wire leaders to make sure we don't miss these acrobatic bites.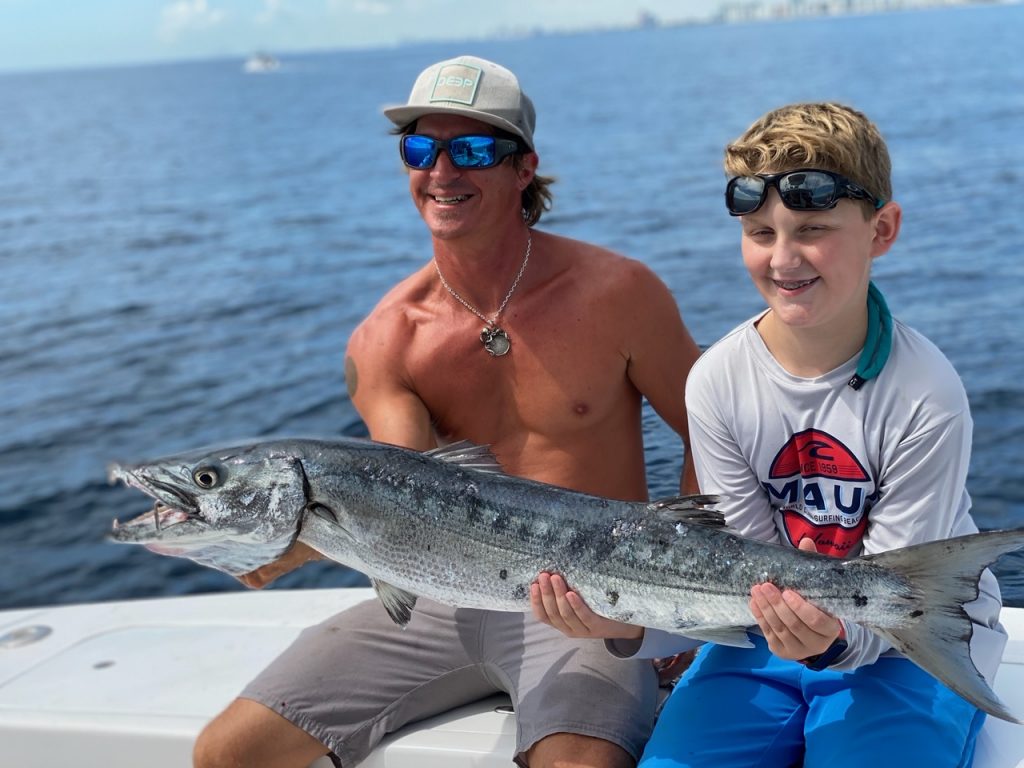 The Barracuda are lurking on the reefs to ambush the unsuspecting baits as well.
THE SHARKS ARE ON THE PROWL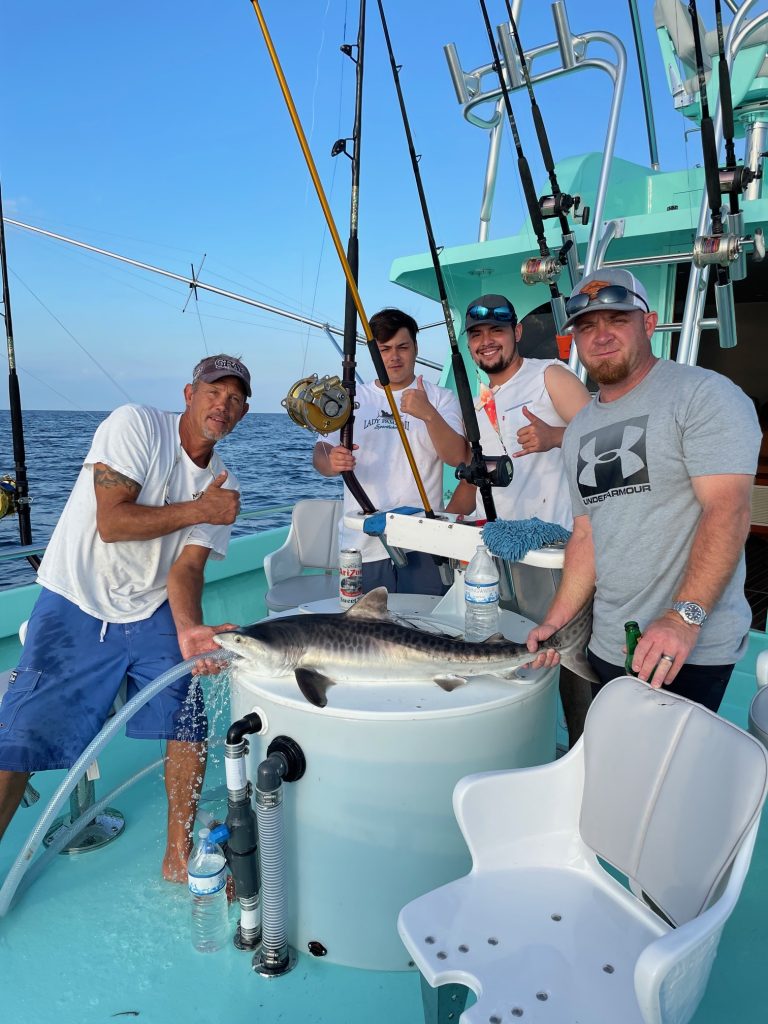 We continue to catch some acrobatic Blacktip ad Spinner Sharks as the winter feeding pattern sets in. We're also getting shots at Hammerheads and Tiger Sharks. You had better "eat your Wheaties" because these sea monsters don't give up when hooked.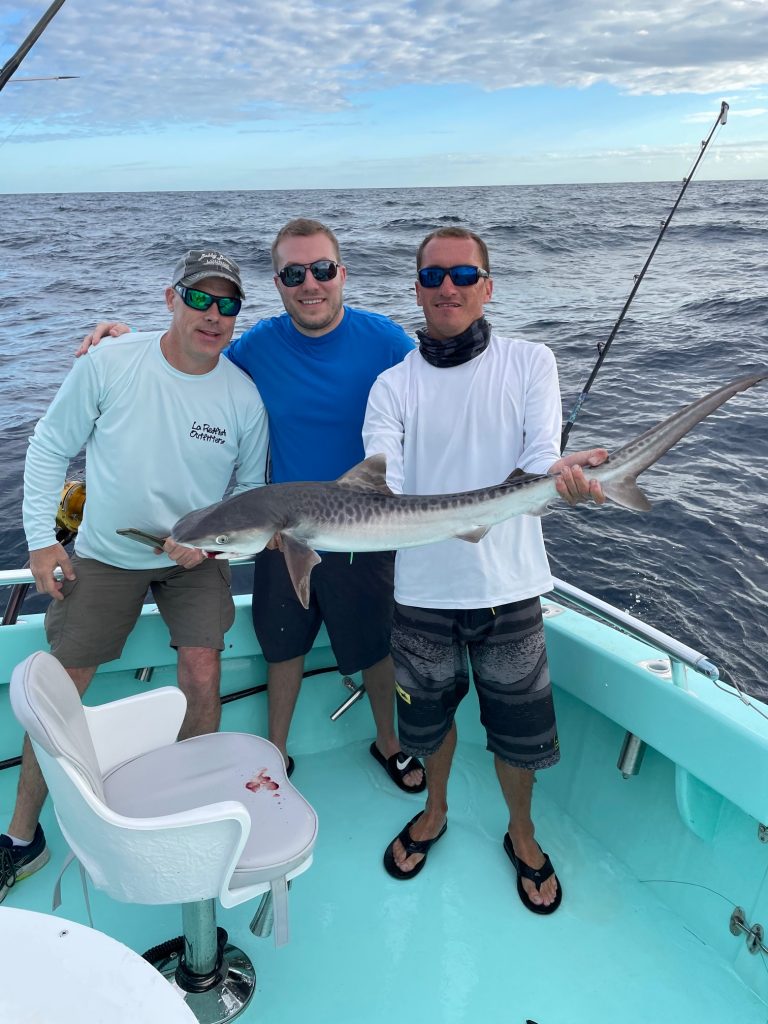 DRIFT FISHING REPORT: LOIS ANN IS ON THE BITE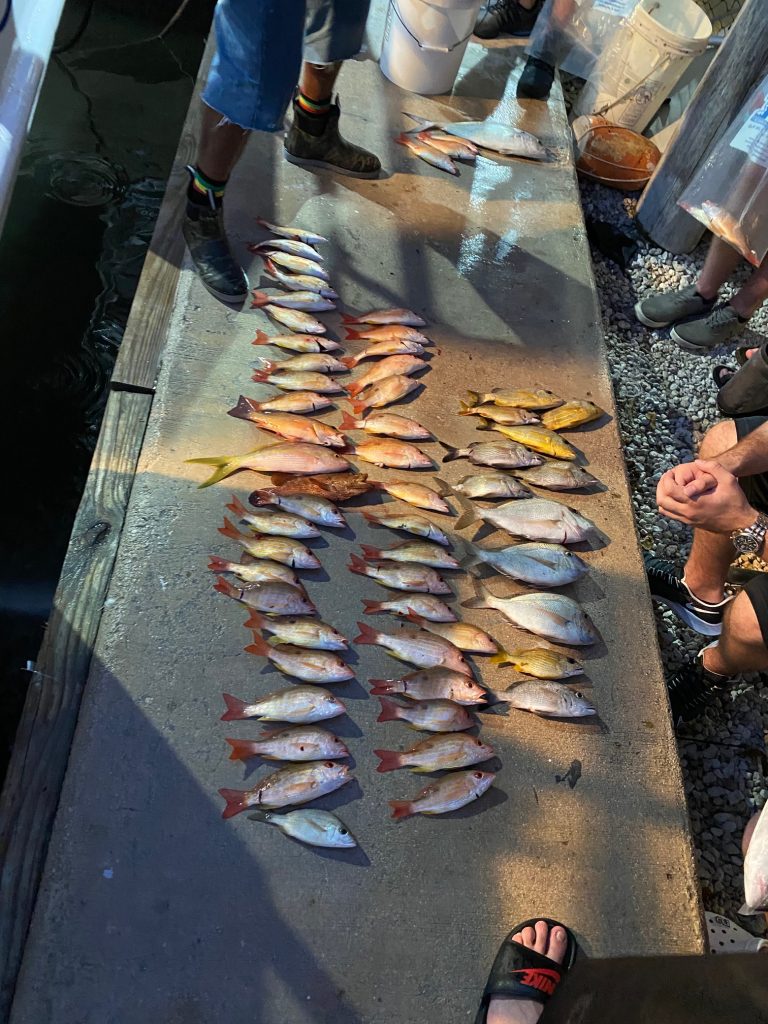 On the Lois Ann, our daily trips – 3 each day – are producing Kingfish, Tuna, Bonito, Barracuda, Amberjack, Sailfish and a host of Snapper and Grouper. Our nighttime trips have been producing huge numbers of Yellowtail Snappers. Keep in mind that the Lois Ann is limited to a certain number of anglers per trip due to CDC guidelines. This is great news for YOU as you have plenty of room to fish multiple lines! Book a trip NOW to get in on this amazing action after the sun goes down.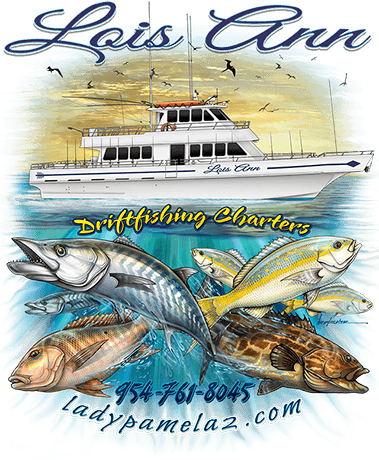 For only $65, come on aboard and gain access to some of the hardest-fighting and tastiest fish that swim. We're the best fishing value in all of South Florida! Remember all ages and experience levels are always welcome. We have a captain and mate on board to help you at all times. We also have one of the cleanest vessels in the southeastern US and we have a fully-stocked galley to keep you hydrated and well-fed!
Tight Lines and Happy Holidays!
Captain David