The finger mullet are blasting by our marina all night long and during the day they are sitting near the bridges and mangroves close by.  The best action has been on the incoming tide south of Port Everglades for us around Dania Bridge as well as inside Port Everglades inlet.  This is only a stone throw away from our marina.  When you catch it right, the bite is absolutely epic.  We have been starting the trips a little later due to the tide and moon.  The bite has also been best after dark as the mullet don't seem to want to move until they feel it is safe into the night.  Once they start moving it is nonstop schools of mullet heading south with big snook and small to medium tarpon on their tails.
Last night our trip was nothing short of epic.  We started out the evening with one throw of the cast net and all the bait we needed for the night.  With mostly small mullet, we hand pick the ones that are a little bigger and healthier to give our clients the best shot at getting the strike.
Once it got dark, we started hitting the inlet and bridges where it was non stop action with the first bite coming within seconds of our bait in the water.  We caught snook from 8 pounds all the way to 30 pounds.  Our anglers were amazed at how great the fishing can be so good right here just steps from our dock in the Fort Lauderdale Intercoastal.
About an hour into our trip we landed this trophy snook that was carefully taken out of the water for a quick pic and released as she was over the slot limit by far.  We didn't get measure on her, but she was a moose!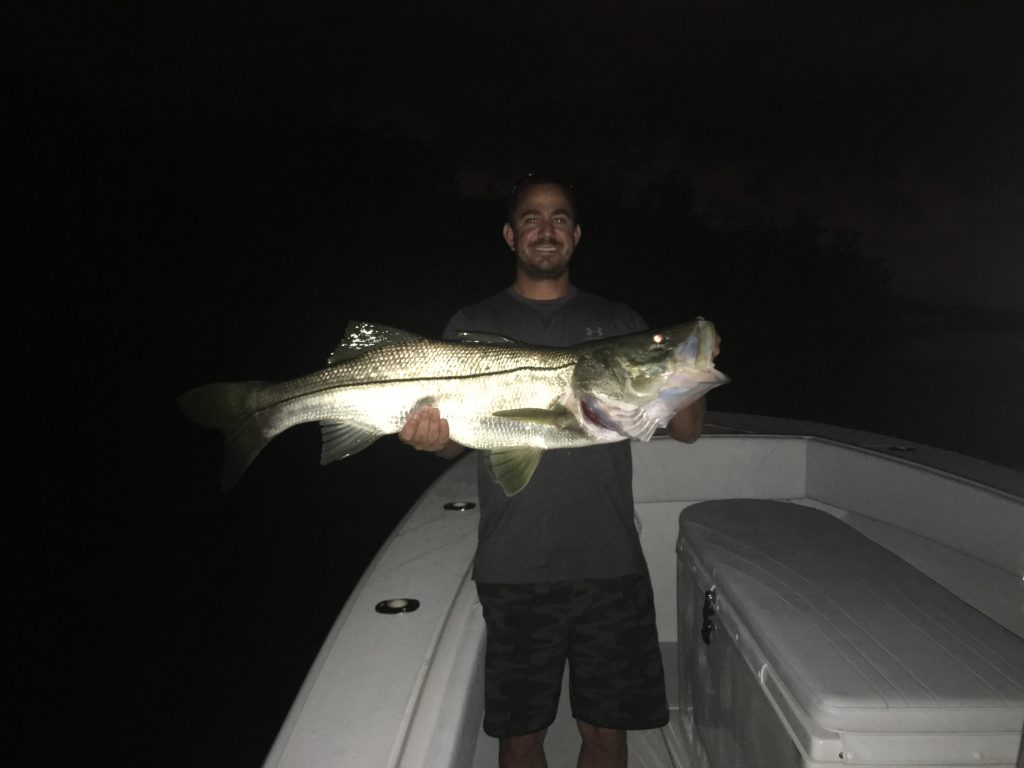 Once the clients got their share of snook, we changed the rigs a little bit and started targeted tarpon.  We proceeded to sight fish smaller sized tarpon about 15-20 pounds in the lights and shadow lines around Port Everglades.  The bite was hot and was fun for our anglers on light tackle.
We are in the full swing of the 2016 mullet run and I have multiple boats available including our new SeaVee center console for the evening tarpon/snook trips.  Escape the heat of the sun and go into the darkness with us to see fish blow up baits by the seawalls and bridges in the calm waters of the intercoastal.