Exclusive Fishing Experience for Large Groups: Unparalleled Sportfishing Charter in South Florida
By Abner on 08/29/23
When it comes to offering an exceptional fishing adventure for larger groups, no other sportfishing charter company in South Florida comes close to what we provide. We are proud to be the sole charter company permitted to legally accommodate groups of up to 22 individuals for an unforgettable day of angling excitement.
Setting Ourselves Apart
Our commitment to offering an extraordinary fishing experience sets us apart. With the unique capability to accommodate large groups, we provide an opportunity for friends, families, colleagues, and enthusiasts to come together and share the thrill of reeling in prized catches. No longer restricted to smaller gatherings, our charter opens up the world of deep-sea fishing to everyone.
Unrivaled Comfort and Space
The secret to our success lies in our state-of-the-art vessels, specially designed to ensure both comfort and functionality for larger groups. Our spacious boats feature ample seating, lounging areas, and fishing stations, making it possible for everyone to participate without feeling crowded. Whether you're an experienced angler or a first-timer, our vessels offer the room to move around, learn from one another, and enjoy every moment on the water.
Tailored Experience
Our professional crew members are well-versed in catering to large groups, ensuring that each individual receives personalized attention and guidance throughout the trip. From setting up fishing gear to assisting with techniques, our crew is dedicated to making the experience enjoyable and educational for everyone on board. We understand that every angler is unique, and we strive to provide a tailored experience that meets the needs and preferences of each group member.
Casting a Wide Net
With the capacity to accommodate up to 22 people, we're not only making deep-sea fishing accessible to more individuals, but we're also creating opportunities for team-building, celebrations, and memorable gatherings. Whether it's a corporate event, family reunion, bachelor or bachelorette party, or simply a group of friends seeking adventure, our charter opens the door to a range of possibilities.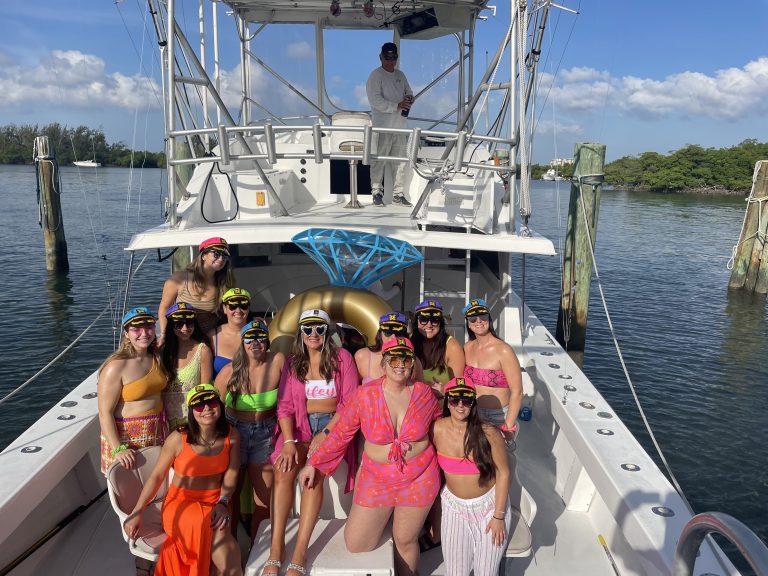 Book Your Adventure
If you're seeking an extraordinary fishing experience for your large group, look no further. Our charter is ready to provide an unforgettable day on the water, complete with expert guidance, top-of-the-line equipment, and the thrill of reeling in impressive catches. Contact us today to reserve your spot and join us in making fishing memories that will last a lifetime.
Abner F.
954-761-8045