This past week the fishing with Lady Pamela II sportfishing has been quite good. Ron and Paul from New York had a memorable trip this past Friday morning. They decided to buy a dozen goggle eyes to try to catch up sailfish on the kites but the winds were too calm to start so we tried we tried bottom fishing. The snappers were not cooperating very well as we caught a few, but it was a lot of work. Finally, up went the kites up and in the first five minutes we caught a real nice 14 lb. mahi-mahi. Right after resetting the baits we catch a doubleheader sailfish! After releasing both fish, we put the kites back up and we caught another double! Just awesome fishing. Towards the end of the six-hour trip we hooked up a triple out of a quad sailfish bite! Our mate Adam Mate had to reel in one of the fishing because we only had two anglers. On Saturday, fishing offshore Fort Lauderdale totally changed as we caught only king mackerel and a nice African pompano.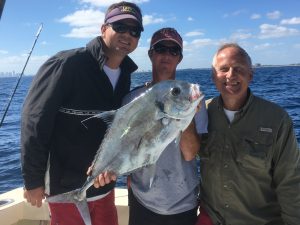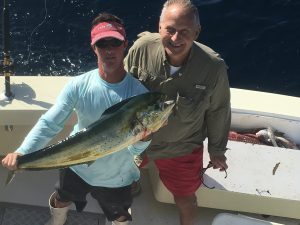 All the driftboat trips on Thursday, Friday, and Saturday nights limited out on vermilion snappers, as well landing lane snappers, mangroves and a few yellowtails. A few bluefish, grunts, and triggerfish were in the mix as well. The daytime trips have been producing king mackerel as well as some monster triggerfish.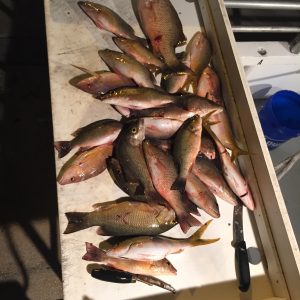 Lady Pamela sportfishing also had two back-to-back swordfish trips; one nighttime trip and one daytime trip. We didn't get any bites on either trip under a full moon, which is surprising, but it can be hit or miss. We have a couple daytime swordfish trips this week and we hope bite picks up on the backside of the moon. I'll keep you posted!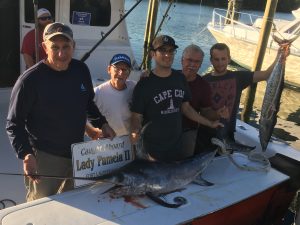 Tight Lines
Capt. David Ide
Lady Pamela 2 Sport Fishing
954-761-8045
www.ladypamela2@bellsouth.net