Mahi Mahi Sportfishing
One of the most sought after fish by our customers and Captain David is the beautiful mahi mahi also known as Dolphin or Dorado. These fish not only look great and put up a heck of a fight, but they are one of the best tasting fish in the sea (known as the chicken of the sea). Being the closest proximity to the gulf stream in the entire United States, we get awesome mahi fishing year round with the peak in the summer time.  It is not uncommon for us to get our customers limits (10 per person) everyday during the summer.  Be prepared to be sent home with countless bags of filets for friends and family.
The fish range from 5 to 50 pounds with the biggest fish usually caught in the winter and spring months while kite fishing for sailfish. In the summer time, we run around 20 miles in search of weedlines, frigate birds or floating debris. The mahi usually hang under anything that holds bait and feed on it throughout the day.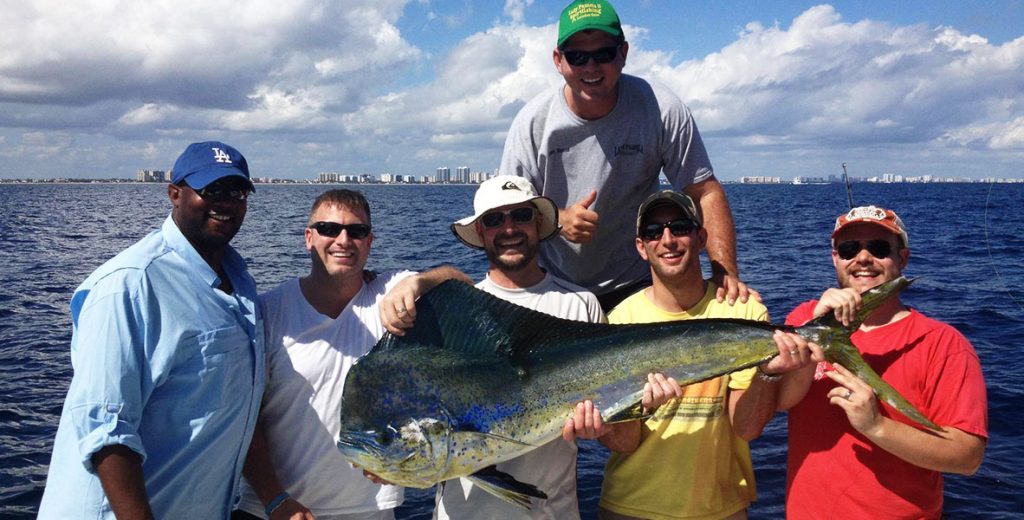 During the cooler months we don't have to run out as far as the fishing is usually very good in the 100ft to 200ft depth range. By fishing live bait on kites we get a variety of other species including wahoo, kingfish, sailfish, white marlin, cobia and much more.
When you see a lit up green and gold dolphin come up on a bait, there is nothing more exciting as they are extremely fast and the jumps are unreal. All our boats here at Lady Pamela Fleet have towers so that we can sight the dolphin and give our guests the highest chance at catching the fish.
If you'd like to get out chase one of the coolest pelagic species out there, give us a call.
BOOK YOUR TRIP TODAY! Call Us: 954-761-8045