Drift Fishing
"The Lady Pamela drift charter is the best deal in Fort Lauderdale. Captain David and Crew are the only charter boats in the area that are professonal and courteous. Trust me I have fished with other crews in the area and they are grumpy and just take your money. I fished with my 2 sons and we had a blast catching dolphin in the summer time. At the end of the trip the mate cleaned and bagged all the fish for us." -Matt Halal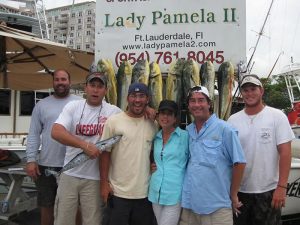 Voted Top Drift Boat In 2016 by ReelReports.com!
Drift fishing is one of the best ways to see Fort Lauderdale, not to mention, it is one of the best bargains when looking to charter a fishing boat in South Florida. Plus, if you're lucky, you might catch dinner.
Drift fishing aboard the Lady Pamela III is a terrific way to experience Fort Lauderdale fishing without the cram and jam of an average drift fishing boat. The Lady Pamela III is Fort Lauderdale's ONLY drift fishing boat with a maximum of 24 passengers, more room for you, more FISH for you!
Not your typical drift fish boat, The Lady Pamela III is a sport fish boat custom built by Stapleton Boat Works. You will not fish a nicer, quicker, more comfortable boat in the South Florida area, without a doubt. U.S. Coast Guard Licensed and Inspected fishing vessel, the Lady Pamela III is recognized for its spacious cockpit and 15 ft beam. The bridge is loaded with top of the line electronics for superior safety and fishing success in Fort Lauderdale.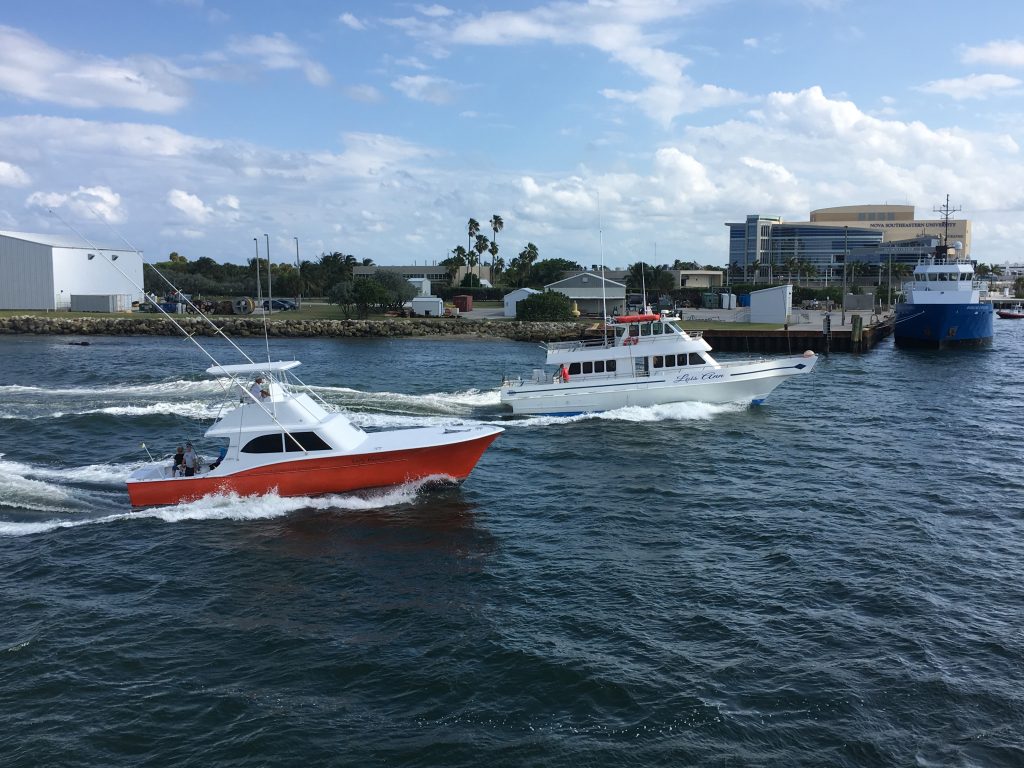 South Florida Deep Sea Fishing on the reefs off of Fort Lauderdale Beach, Florida produces an incredible variety of fish, large and small, from minnows to monsters.
Our proximity to the Gulf Stream guarantees great activity year round – whether you are fishing for dinner or sport. Some of the fish you can expect to catch are Grouper, Amberjacks, Snapper, Kingfish, Dolphin, Wahoo, Tuna and more.
The Lady Pamela Sport fishing fleet is conveniently located ONLY 5 minutes from the fishing grounds. Your time on board will be spent fishing, not traveling.
Daily Drift Fishing Trips – 365 Days A Year
Daily Fishing Trips

Prices
8:00AM-12:00PM Reef Drift Fishing
$45 per person
1:00PM-5:00PM Reef Drift Fishing
$45 per person
7:00PM-11:00PM Reef Anchor Fishing
$45 per person
NOTE: Boat must have 10 anglers to leave the dock.
All Day Trolling Thursday
$120 per person – Up To 15 People Max.
3 Color Fish Finders/Bottom Sonar/Radar
VHF Radio/Sideband Radio
GPS Satellite Navigation System
Live bait tank
Shaded Sitting area with comfortable cushions
CLEAN restroom
Daily Drift Fishing Trips on the Reef
On our drift fishing trips (8AM-12PM / 1PM-5PM) we load the boat with top of the line tackle, bait (squid, ballyhoo, sardine) and head 1-2 miles offshore anywhere from 70 – 150 ft of water on the reef. Once lines hit the water, expect to catch: Bonito, Tuna, Snapper, Grouper, King Mackerel, Wahoo and Mahi – Mahi. If you're lucky enough, you might even hook a Sailfish in shallow. Fishing in Fort Lauderdale is seasonal, every 2 – 3 months a new species migrates to our waters. Want to see what we're catching right now, check out our updated fishing reports.
All Day Trolling Trip Thursday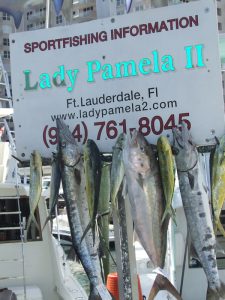 Every Thursday, the Lady Pamela III heads offshore for an 8-hour All Day Trolling trip (8AM-4PM). About 10 miles offshore is where the big ones tend to hang out. When hunting down South Florida's favorite fish, we look for lingering weedlines and floating debris, which may house many different species. It is common to hook up with Wahoo fish, dolphin, and numerous other fish. If any one species isn't cooperating, we will try several different fishing techniques to get the bite. We can drop bait on a shipwreck for Snapper, Grouper or maybe even an Amberjack. If conditions are right, live bait Kite Fishing for Sailfish is also an option while fishing offshore. The best part about the All Day Trolling Trip; we have plenty of time to fish plenty of methods.
BOOK YOUR TRIP TODAY! Call Us: 954-761-8045