YELLOWTAIL SNAPPER
APRIL 6, 17
It has been a busy several weeks of fishing here in south Florida and I have been remiss in publishing the Lady Pamela sportfishing's fish-of-the-week. I am excited to talk today about one of the most well-known fish around, the yellowtail snapper. Here in south Florida, the yellowtail snapper (Ocyurus chrysurus) is the premier species of fish to put on one's plate. My mouth waters at the thought of a nice fillet sautéed in a little butter and garlic. Yellowtail fillets are light and flaky, and melt in your mouth.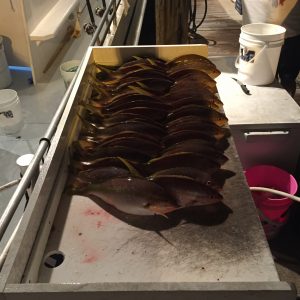 Now, to get those fillets is not such an easy task. Yellowtail tend to be wary, skittish fish, but we know how to get them to overcome their wariness. We use a nice mix of chum to attract and hold large numbers of fish back behind the Lady Pamela II driftboats. When they get to feeding, the fishing can be nonstop, but it can quickly end if predators like sharks or barracudas show up. The minimum size limit for yellowtail in Florida is 12", with most of the fish that we catch in the Fort Lauderdale/Hollywood area running from 12"-16". We do get our fair share of flag yellowtail as well. "Flag" yellowtails fish run from 18"-20" in length and can weigh 3 lbs. or more, and they can  put up a pretty good fight!
The Lady Pamela driftboats operate both day and night trips that are reasonably priced, so there are plenty of opportunities to reel in your dinner. Give us a call and let's go fishing!
Tight Lines
Capt. David Ide
Lady Pamela 2 Sport Fishing
954-761-8045