The Bite is Peaking for Labor Day
Posted on: August 28, 2018
Even though Summer is winding down, Lady Pamela Sportfishing continues to enjoy scorching offshore action! Thank to all of our loyal clients, our boats are leaving the dock full of anglers – and returning with stuffed fish boxes. The entire LP2 Team wishes to thank each and every client who fished with us aboard the Lady Pamela II Fleet in August. We greatly appreciate your business and hope that you'll come back to see us soon, especially our junior anglers who continue to hone their angling skills aboard the Lady Pamela II Fleet.
The late summer weather patterns continue to do their thing as our early morning trips and evening trips continue to produce solid catches and number as we avoid the hottest – and stormiest – part of the day. There remains scattered seaweed between the beach and 20 miles offshore but the larger patches hold fewer – but much larger – pelagic species.
Sportfishing Report:
Mahi Mahi were the stars of the Summer but they took a backseat to the fantastic Blackfin Tuna bite during August. The entire LP2 Fleet continues to strike black gold with Blackfin Tunas ranging from 8 to 15 pounds with a few 20-pounders mixed in. We're finding the Blackfins between 85 feet and 120 feet of water on the troll using Sea Witches and Bonito Strips, trolled at 5 – 6 knots. Large Bonitios are mixed in with the Tunas for good measure and can sometimes empty a reel if you're not careful. We're also fishing shark baits near the Tune/Bonito schools. (More on that below)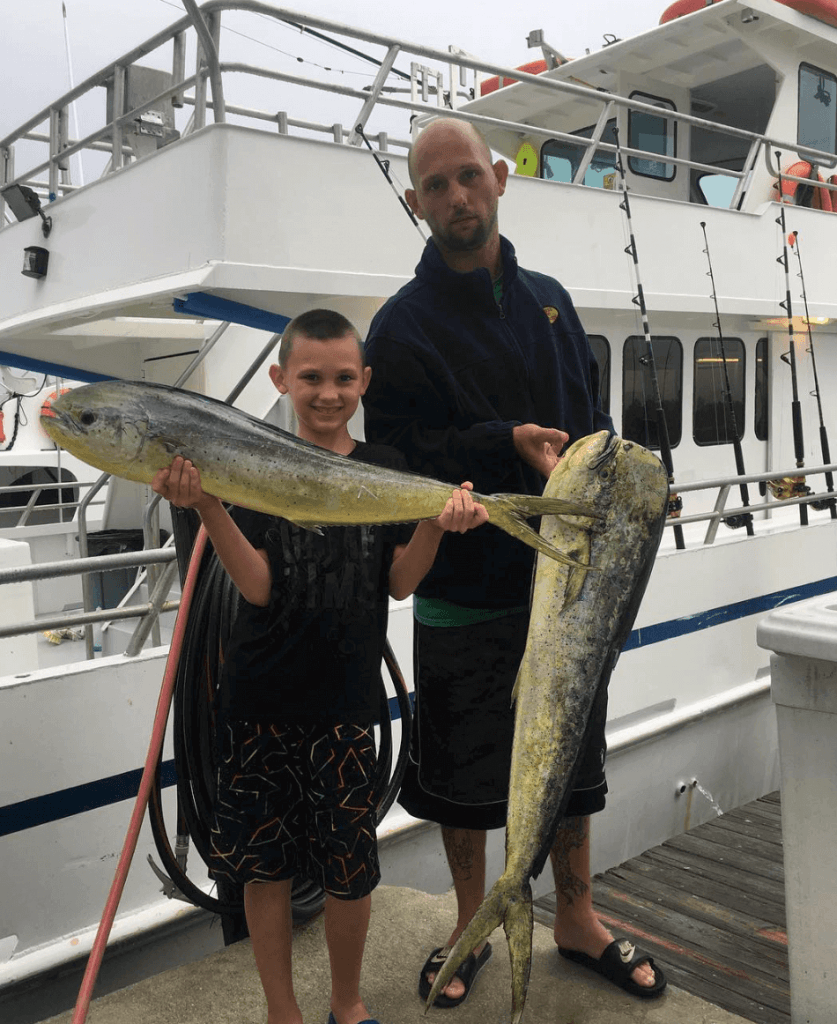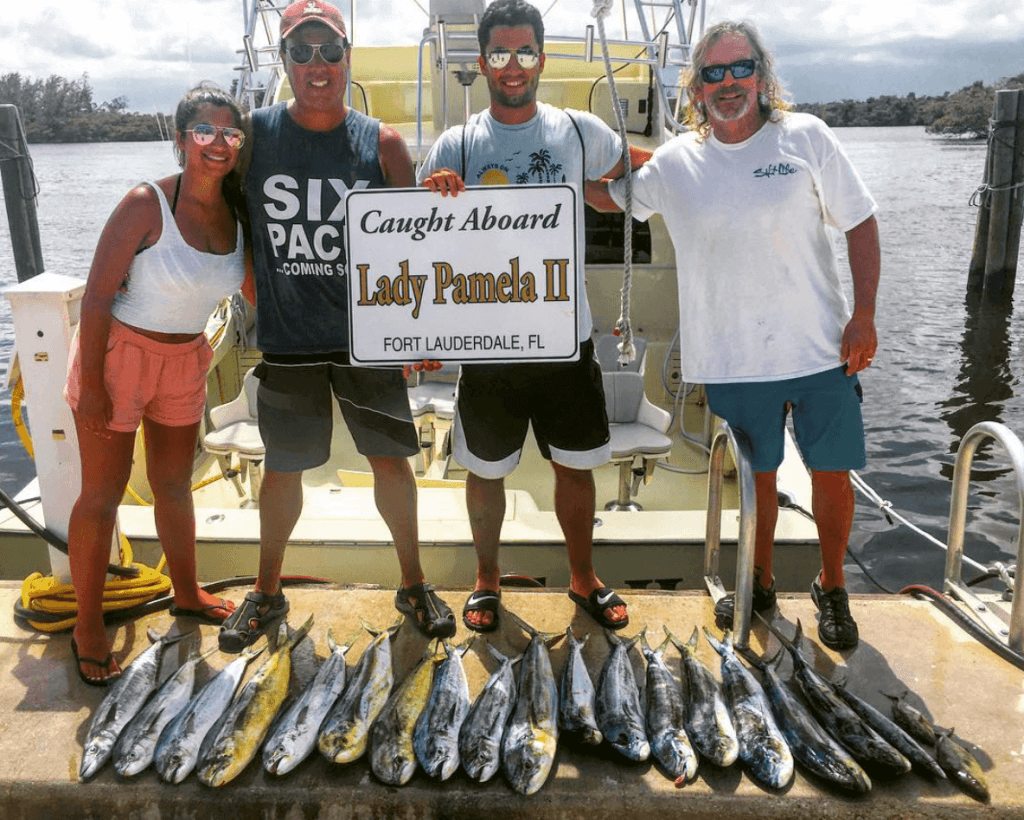 Kingfish are still around in the 8 to 15-pound range, with an occasional 30-pounder between 60 and 90 feet of water. The Kings continue to crush our baits trolled below the surface on planers. Our crews have the training and experience to rig and fish planers just right to get the bite when boats around us miss the shots.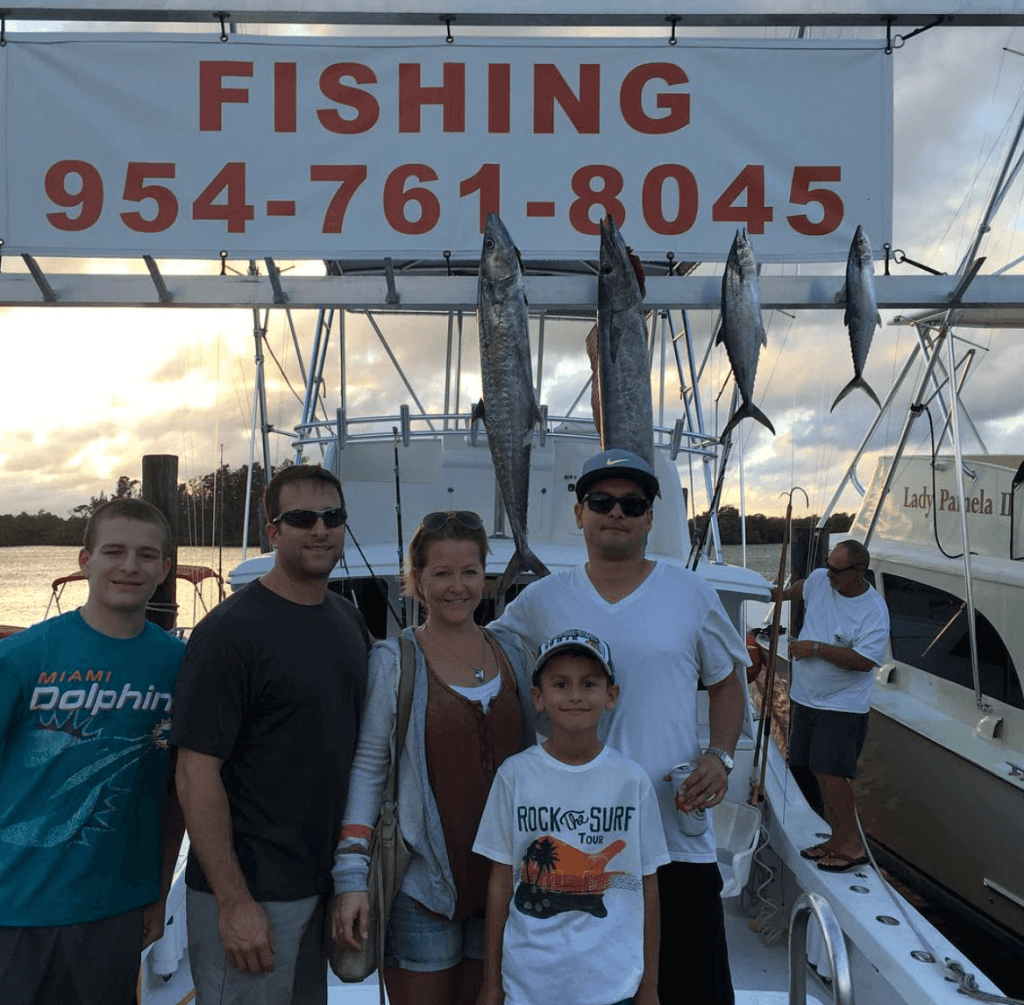 The Sails are Coming:
Once we get past Labor Day, there are several bait migrations that begin, which will lead to certain apex predators to "winter" down in South Florida. Sailfish are one of those apex predators and many of them have arrived ahead of the bait schools. We continue to catch Summertime Sailfish trolling the color changes between 100 feet and 300 feet of water. The Sailfish have been responding well to Sea Witches (in blue/white and pink/white color combinations) trolled on the surface between 7 and 9 knots. and rigged Ballyhoo trolled on the here have also been some sailfish around on the edge. We're also starting to switch over to live baits and will do more of that as winter approaches. We also continue to catch large Barracuda when trolling for Sailfish near the 100-foot depth.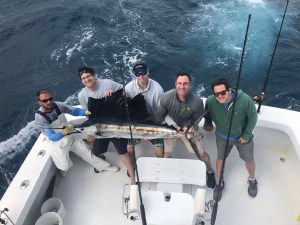 Hot Shark Fishing:
The shark fishing keeps getting better and better! August proved that July's hot bite was no fluke. We've been catching big sharks, with each trip landing at least one shark, with most trips catching several. The stars of the shark fishing show have been Hammerhead Sharks.
Hammerheads are one of the most-prized and unique sharks in the Atlantic Ocean and always seem to capture the imagination of our clients! There have also been Caribbean Reef Sharks and Blacktip Sharks mixed in. All the sharks were caught either on Bonito or Kingfish dropped down in 300 feet of water. There is nothing quite like the slugfest you experience with one of these huge specimens. Both angler and tackle get a workout!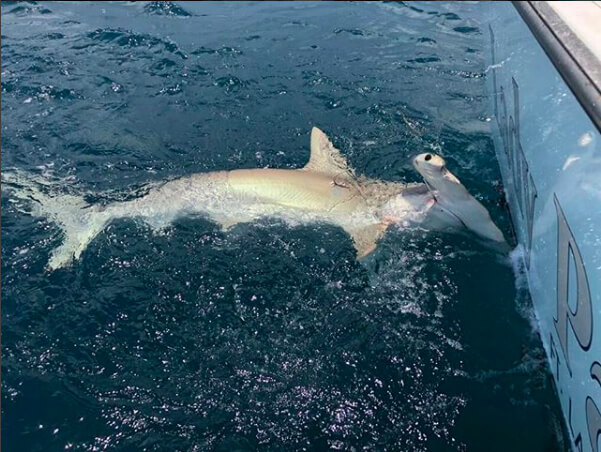 Drift Fishing Report:
The Lois Ann continues to bring the meat back to the dock along with grinning and sore anglers. Our day trips have been solid with catches of Kingfish, Bonitos and the occasional Blackfin tuna on butterfly jigs that get deep into the water column. However, our night trips took advantage of the big moon to catch large Mangrove Snappers and Mutton Snappers. Squid and live baits have been the best way to get the Muttons to eat but they can be finicky and absolute beats once you set the hook. We expect the Night Trips to only get better as the bait migrations commence.
Enjoy the coming Labor Day weekend aboard the Lady Pamela II Fleet as we bid farewell to the Summer and await the arrival of Fall. Call us to book a trip and let the Lady Pamela II Team take care of the "Labor" as you enjoy all that the Fort Lauderdale offshore waters can provide.
Tight Lines,
Captain David