Rough seas yield sailfish bonanza!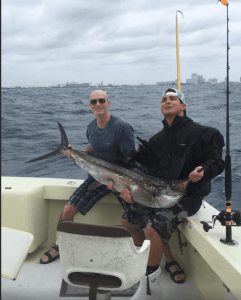 My wife and I arrived late on November 19th, as our taxi driver took us on a unscheduled (you know what I mean) tour. Captain David calmly assured me that we would still make out fine, and in fact the rough seas that day were actually a good sign and improved our chances of a sailfish strike. We stopped to pick up some of the best bait available which they call google-eyes (small extra cost, highly recommended). They fish sailfish with kites in south Florida if weather permits. I've fished with a kites before, but not in the same manner as the crew of the Lady Pamela II. This windy day they flew two kites with multiple baits on each. It was truly a sight to see and they explained everything as they were going, so it was very interesting and educational too. It wasn't long before one of the orange floats was zig-zagging across the water and the mate grabbed the rod and free spooled for a few moments before gradually pushing the drag up to strike. Just as he did this, the orange ball seemingly flew horizontally across the top of the water at an amazing speed (I swear as fast as a car) for about 100 yards…the sail was hooked and the rush was exhilarating! I took the rod and began fighting the fish just as I heard the captain and mate discussing that this was a very large sailfish…smiles were all around the boat. The fish put on an incredible fight lasting about 25 minutes and did a few amazing jumps, dancing across the top of the water for 20 feet at a time. We eventually brought the fish to the boat and it was an impressive 7 feet, 3 inches long! (I'm on the left in the picture)There were high fives all around. I'm having it replica-mounted, and it will be a long overdue addition to my present collection. A few moments later we were on another large sail which my wife fought for 20 minutes (we have some incredible footage of jumps on my GoPro) and got just outside the reach of the leader when it unfortunately pulled the circle hook. She was tired and a bit sore after, so when a third sailfish was hooked, I fought this one all the way to the leader too! Later in that day we hit a school of Mahi-Mahi which devoured all the baits in the water in seconds…another rush and it also provided some supper as well. Lady Pamela II was one of the most comfortable boats I've fished on, and definitely was family friendly with a clean and spacious restroom as well. David and his crew were professional and courteous and I would have no hesitation recommending them for a family outing, or to experienced deep sea fishermen like us. The trip was a magical memory that we will never forget. Thanks David!
Awesome Tarpon Trip!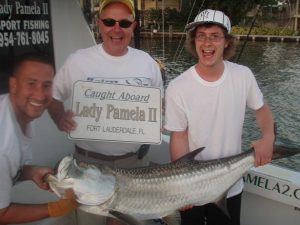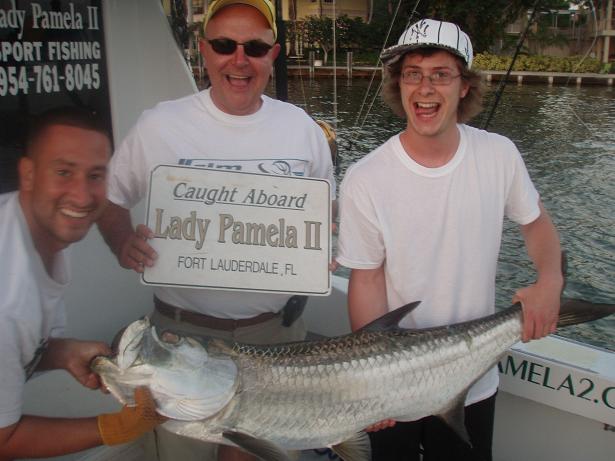 We booked Captain David to take us fishing inshore since my wife gets really seasick. He mentioned that the tide was really good on a particular date so we took it. My son caught his first tarpon about 50lbs along with a barracuda and we released a snook. The inshore waters of Fort Lauderdale are very scenic and Captain David showed us some amazing celebrities homes including Wayne Huizenga where we caught a tarpon right behind his house.  Very cool stuff.  David took measurements of the tarpon and my son now how it hanging in his room. The silver king!
Awesome Trip!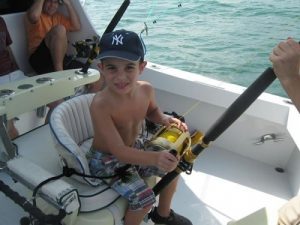 I took my 3 kids out with Captain David and Crew for a day of fishing in Miami. Upon arriving we were greeted by a beautiful marina and the captain was ready to go. We had the opportunity to catch some bait and the mate through the cast net a few times while my kids helped load them into the baitwell. We were fishing within 10 minutes and the action was great. I was just happy to share this with my kids, but Captain David went beyond my expectations. I highly recommend you book Lady Pamela. We will be back!
Brian W.
What An Adventure!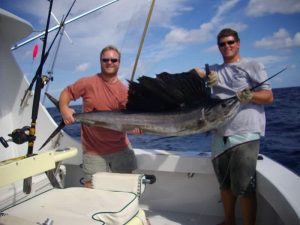 I never leave reviews, but we had such a good time, I wanted to share with others. Captain David and his guys are top notch, you can tell as soon as you pull up that you have booked a great trip. We went out with them in April 2015 and we were told this was one of the best months for fishing off South Florida. The captain decided to fly kites (amazing!) to dangle baits so that the fish can't see the hooks. I have never seen this, but it was amazing to see them do it. Within a few minutes we had a first sailfish on and then another hit. A double header! We landed both fish and the day went on just like that. We were watching the baits dangle on the surface all day.  Other boats in the area were "trolling" and weren't catching any. David said it was because the water was so clear that it was important to kite fish.  I highly recommend booking them.
Todd Yurke