Book Today and Receive Cruise Voucher for 2!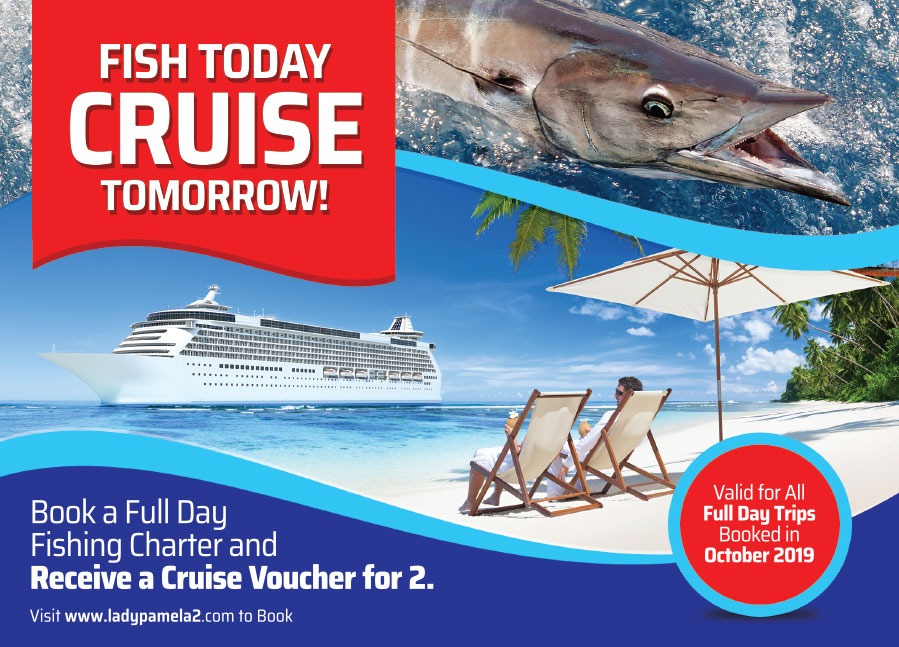 Our sportfishing trips are fun for the entire family.  No experience is necessary and we are extremely kid-friendly; all ages welcome!  You'll start by arriving at our marina 30 minutes prior to your fishing trip (we have plenty of parking right behind your boat).  We offer early morning or afternoon trips, as well as full day adventures customized for you.  At the marina, your captain and mate will make their introduction and go over safety, what's biting, target species and much more.  We love to educate our customers, so please feel free to ask as many questions as you can come up with.  Soon after, we will be making our way though the inlet (Port Everglades) as we are the closest fleet to the fishing grounds.  This means more fishing time for our guests.  Your captain will leverage years of experience to put you on the fish and a great time it will be! Back at the marina, we will clean and bag any fish you wish to keep.  We will also provide you with plenty of ice for your cooler.  Handshakes and hugs will follow and we will do it all over again.  Now that you are part of the family, we hope to see you again soon. *We also have sportfishing boats for up to 60 people. More on large group charters.
Sample Cruise Options:
Cruiselines: Carnival, Norwegian, Royal Carribbean and select Celebrity Cruises
3 Day Bahamas Cruise
4 Day Bahamas Cruise
4 Day Canada Cruise
4 Day Western Caribbean Cruise
4 Day Baja Mexico Cruise
5 Day Bahamas Cruise
Terms:
This Cruise Redemption Certificate allows you and a companion to select your choice of a 3, 4, 5, 6, or 7-day cruise aboard one of the world's most luxurious cruise ships; Carnival, Norwegian, Royal Caribbean, and select sailings on Celebrity Cruise Lines with departing ports in Seattle WA, Los Angeles CA, Galveston TX, New Orleans LA, Port Canaveral FL, Jacksonville FL, Ft. Lauderdale FL, Miami FL, Tampa FL, Charleston SC, Baltimore MD, and New York NY.
Your cruise selection and reservation request package is valid for 16 months from the issue date printed on your certificate. All cruise bookings must be finalized a minimum of 60 to 90 days prior to departure.
Cruise voucher is for interior stateroom accommodations on the entry level deck for two guests. Changes in accommodation type may be available upon request at an additional cost. Additional guest accommodations must be purchased at available cruise line rates. Guests under the age of 21 years must be accompanied by a parent, grandparent, or a guardian 25 years or older in the same stateroom. This certificate covers the accommodations portion of the cruise fare only. You will be responsible for all other expenses, including without limitation: airline tickets, airport transfers, ground transport, taxes, government imposed security fees, port fees and taxes, miscellaneous personal and incidental expenses, alcoholic beverages, spa services, gratuities, shore excursions, administrative costs, and agency fees. Exact costs are calculated and due at the time of booking. Government/port taxes and fees are additional for all guests and are payable at the time of booking confirmation. Fuel supplement charges may be required on some bookings.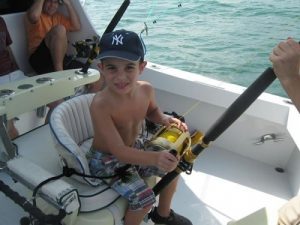 8 Hour Private Big Game Fishing (Up to 6 People)
Trip Times:
7am-3pm / 8am-4pm
Target:
Big Game Species: Mahi, Sailfish, Tuna, Kingfish, Wahoo, Bonita, White Marlin, Sharks
Our 8 hour private sportfishing trip also known as a full day is our most booked trip. On this trip you get double the fishing time of the 4 hour trip allowing us use different tactics to find and catch fish. You will get the opportunity to break for lunch in ice cold a/c while we continue fishing. The 8 hour trips are your best bet as we start early and finish around 3 or 4pm. When the fishing is going off, our 4 hour trips wish they would of booked the 8 hours.
Call Captain David
To Book Your Adventure
$1200 per boat

more

Large Group fishing

As the premier fishing fleet service Fort Lauderdale to Miami, we have licenses that allow us to take out large groups and parties on our luxury sportfishing boats up to 60 people. While our competitors licenses only allow them to take out up to 6 people...

Learn More

$180 per person

more

Shared fishing

Solo Anglers or Small Parties? Take advantage of our shared sportfishing boat that takes up to 6 people for 4 hours of sportfishing fun targeting sailfish, mahi, tuna and more! All at a fraction of the cost of a private sportfishing trips. 2 Trips daily...

Learn More

$750 per boat

more

Kid-Friendly fishing

We absolutely love sharing our passion of sportfishing with children of all ages and experience levels. Through proper eduction and safety as a number one priority, we help to create memories that will last a lifetime. We do birthday parties too!

Learn More