The Early Summer Bite is as Hot as the Weather aboard Lady Pamela Sportfishing
Posted on: June 4, 2019
Honoring the 75th Anniversary of D-Day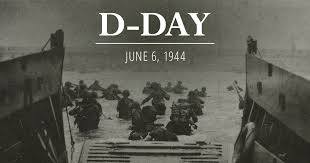 Before we get to the latest reports, we at Lady Pamela Sportfishing want to take a moment to pause to honor the 75th anniversary of the D-Day landings in Normandy, France that commenced on June 6, 1944. So many young men sacrificed everything to defeat tyranny and to defend freedom. We owe so very much to those who came ashore to fight on those beaches; who parachuted behind the German lines, to fight alone and in the dark; who flew countless missions to maintain control of the skies over France; and so many more.
Fishing Report
Summer has arrived and so has the hot Summer bite! The Lady Pamela Sportfishing Fleet followed up our torrid Spring with scorching offshore action with the following species: Mahi Mahi, Kingfish, Tunas, Amberjacks, Barrcuda, Sharks and a horde of Snapper and Grouper species!
NOW is the time to book your Summer saltwater fishing adventure as you plan your family trips in June and July!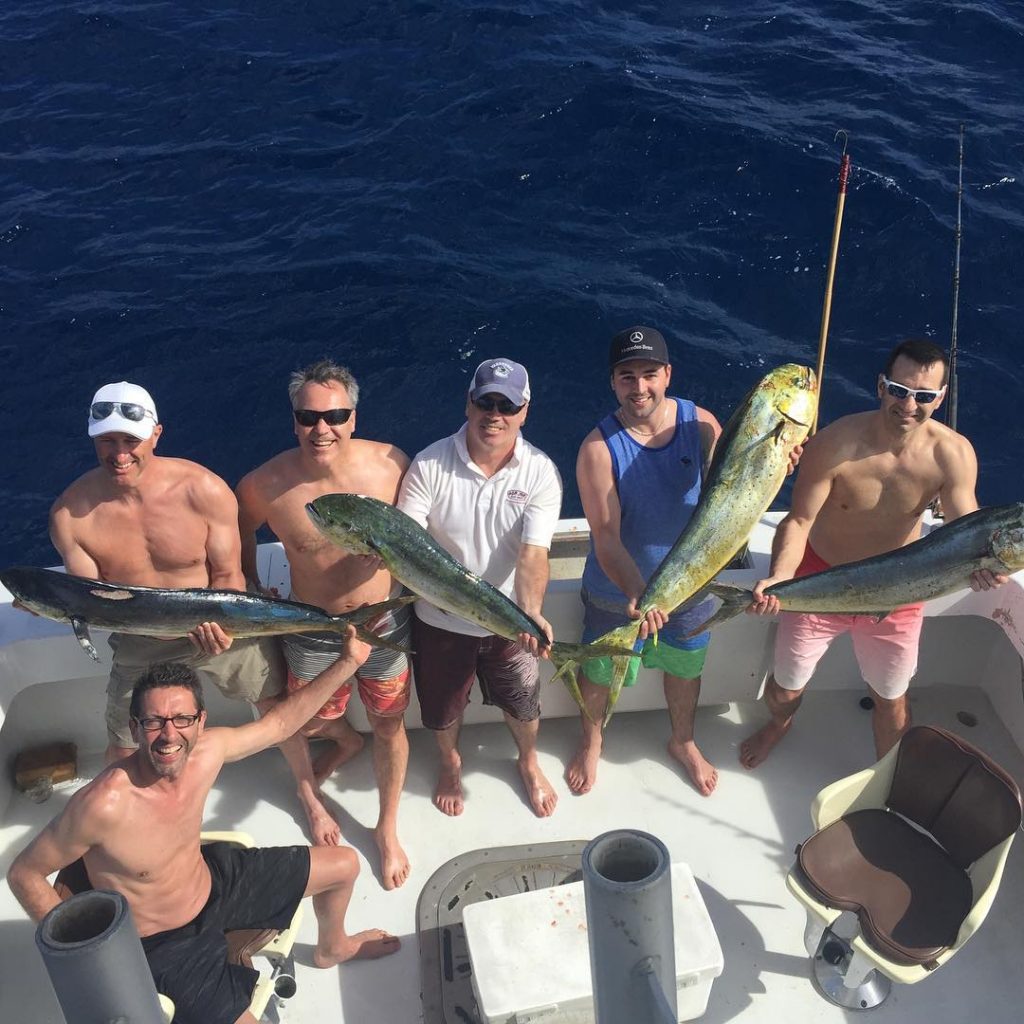 Mahi Mahi on the Prowl
Mahi Mahi are still showing up in good numbers from 200 feet of water all the way out to 2,000 feet of water and beyond. Our clients continue to catch Mahi Mahi up to 30 pounds on both live bait in close and trolling bonito strips and rigged ballyhoo out beyond the reef. Even though the more numerous "schoolies" are in evidence, the bigger Mahi Mahi are still out there to be caught.
Let It B: Blackfins & Bonitos
Blackfin Tunas and Bonitos are still in abundance and are pummeling our goggle-eye kite baits and slow-trolled pilchards with ferocious bites! They are also responding well to trolled bonito strips. The Blackfins are still large, in the 15-25 pound range and the Bonitos are nearly as large.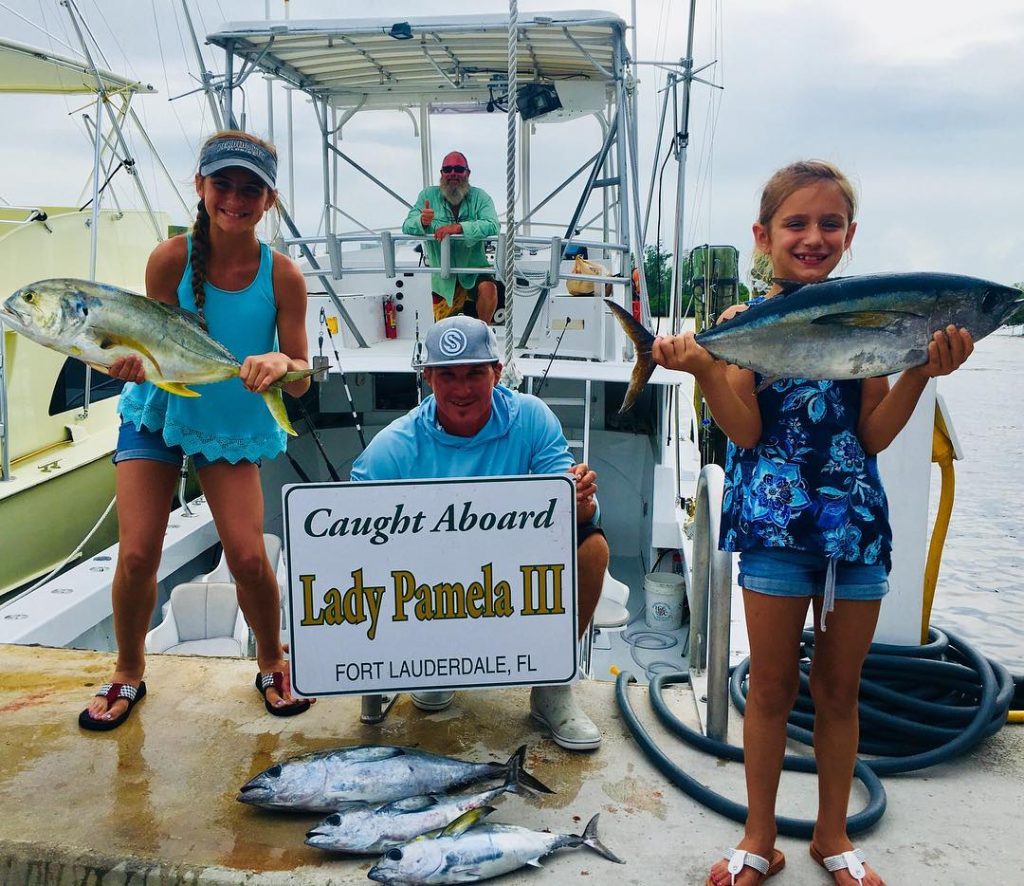 Kingfish Bite is Smokin'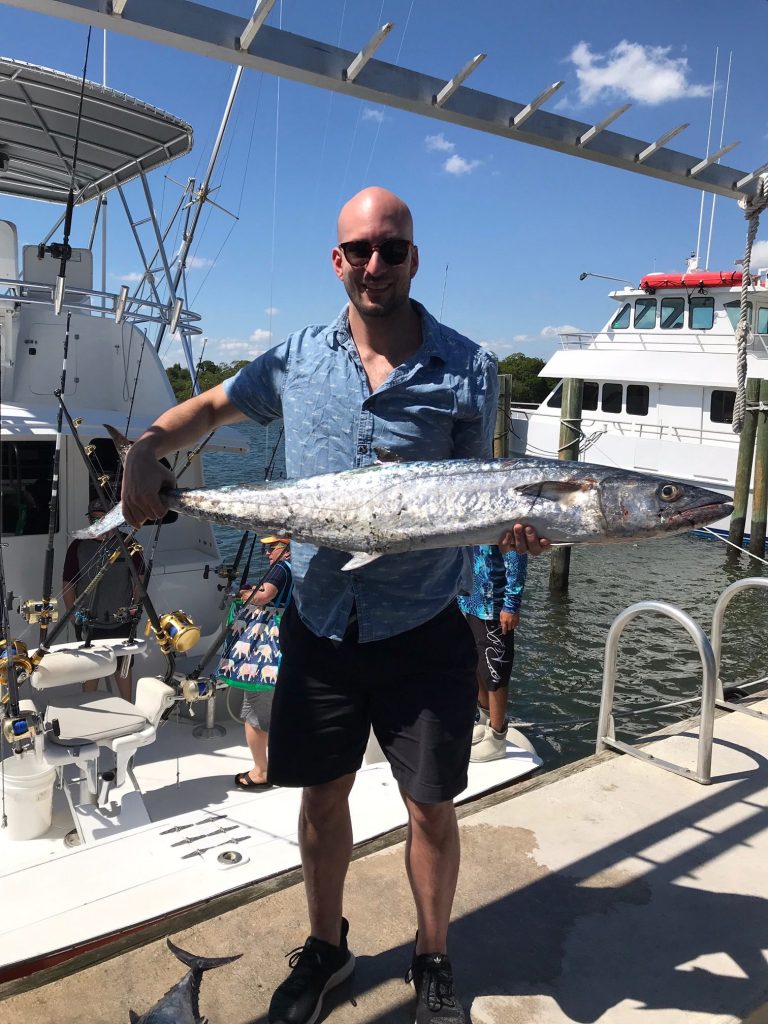 King Mackerel ('Kingfish") are still terrorizing the reefs -and our baits –  up on the reef. Kingfish absolutely love to crush a live bait suspended beneath our kites. Kingfish have teeth that are more like surgical scalpels and they fight hard, which is why we call them "smokers" – they will smoke your drag on scorching runs once they're hooked. We have to fish wire leaders to make sure we don't miss these acrobatic bites.
When they're not crushing our live baits under the kite or slow-trolled, Kingfish have also been responding to our strip baits trolled below the surface on planers along with as Islanders with ballyhoo in both the blue/white and red/black color combinations. We've been finding the Kingfish in between 70 and 150 feet of water.
The Sharks Are Plentiful – and Angry
When our clients have had enough of catching Mahi Mahi or Kingfish, we are ending our trips by targeting big sharks such as Hammerheads and Blacktips.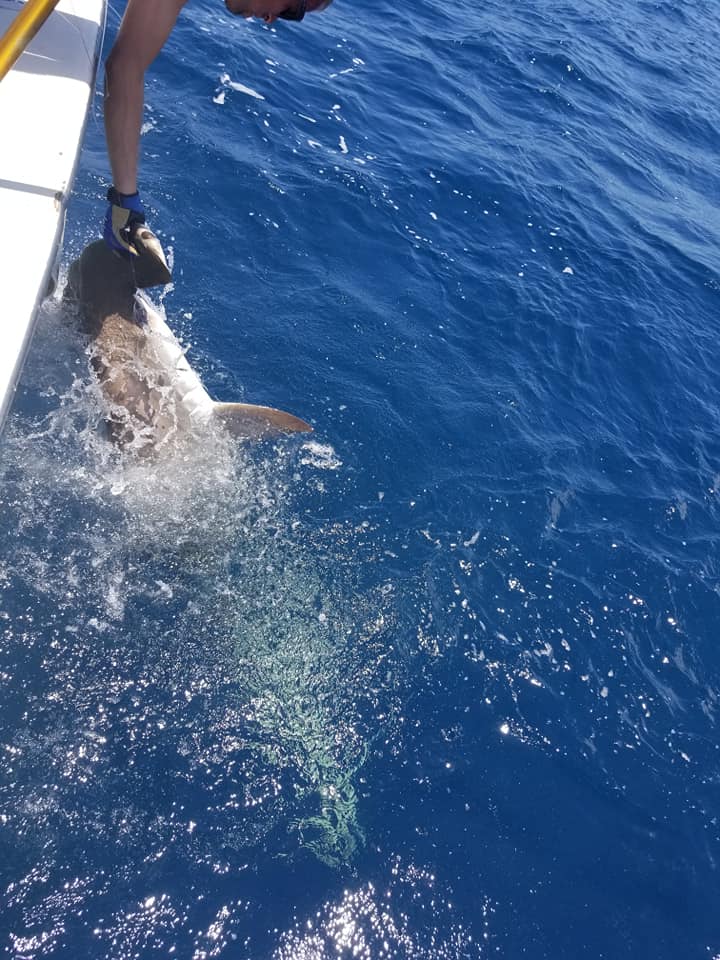 The best shark baits continue to be either a live Bonito or dead Bonito or Kingfish dropped down in 300 feet of water.
Drift Fishing Report: Snappers, Groupers and a bunch of their Friends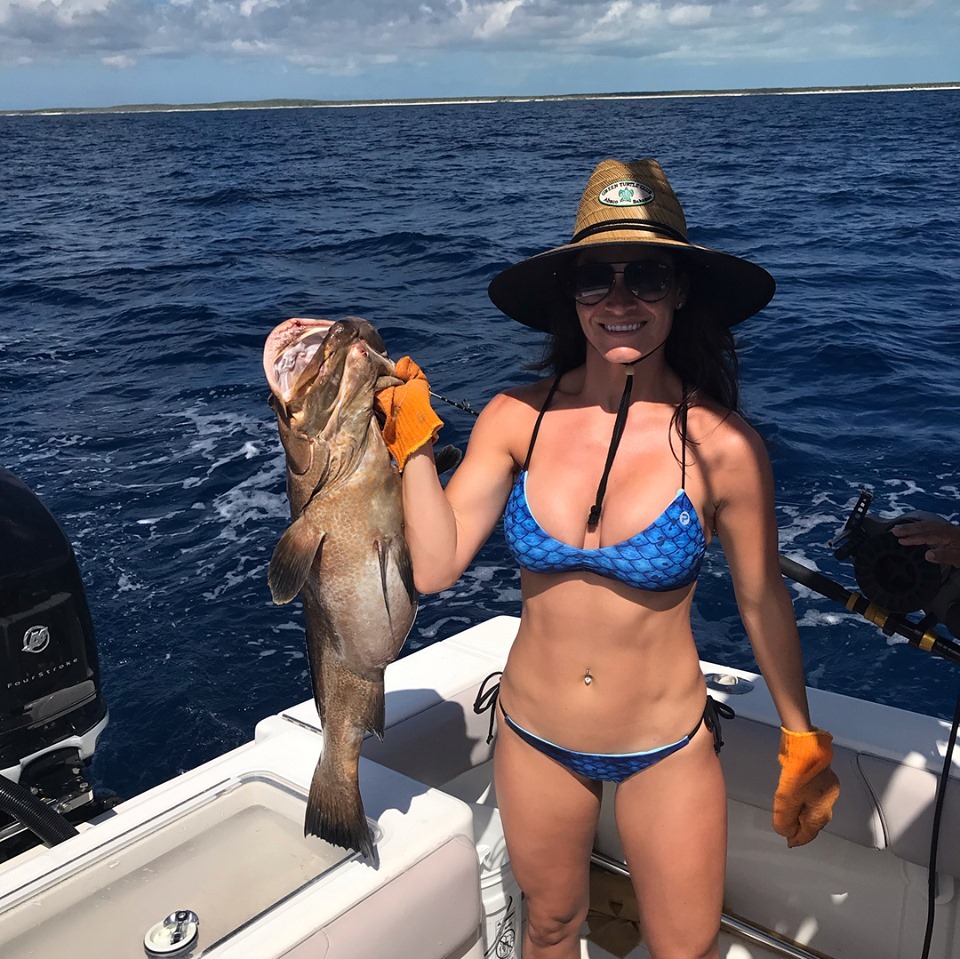 On the Lois Ann, our daily trips – 3 each day – are producing Kingfish, Tuna, Bonito, Triggerfish and a host of Snapper and Grouper. Our nighttime trips have been producing huge numbers of Yellowtail Snappers. Book a trip NOW to get in on this amazing action after the sun goes down.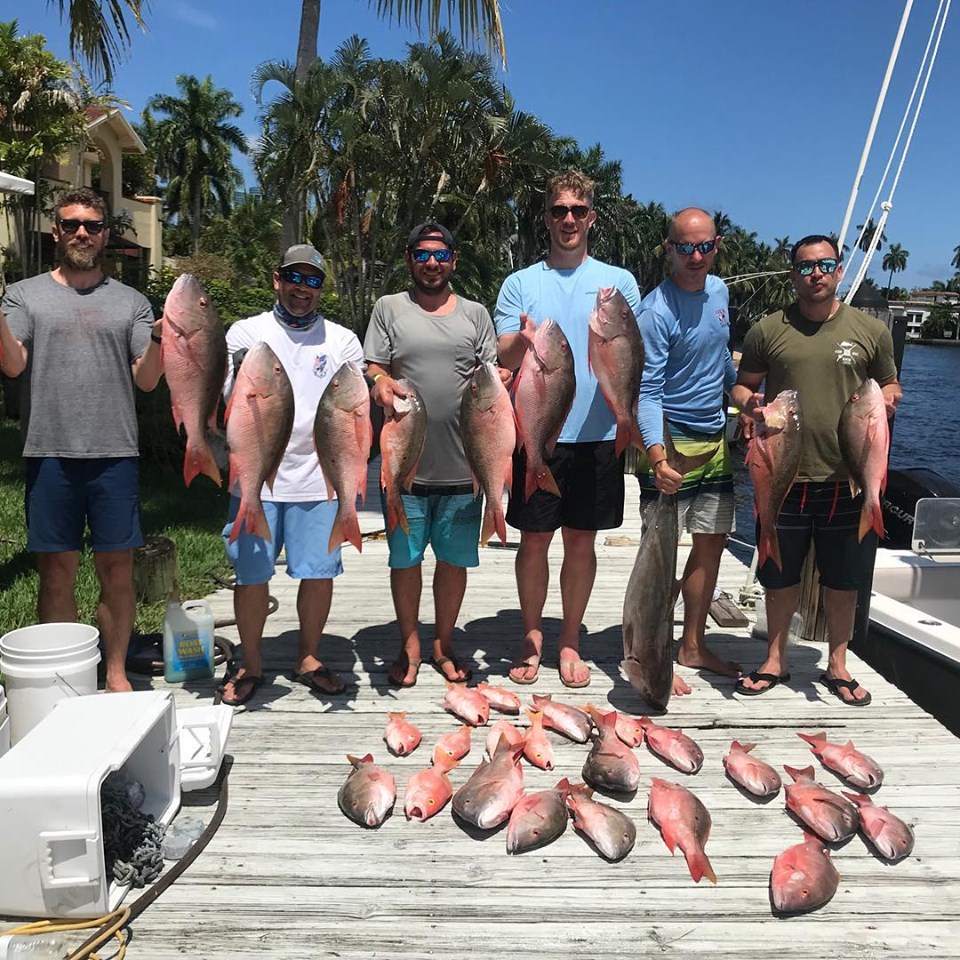 For only $45, come on aboard and gain access to some of the hardest-fighting and tastiest fish that swim. We're the best fishing value in all of South Florida! Remember all ages and experience levels are always welcome. We have a captain and mate on board to help you at all times. We also have one of the cleanest vessels in the southeastern US and we have a fully-stocked galley to keep you hydrated and well-fed!
That's the report for now. Come join us to get in on the rest of this amazing Spring action! Do you have a large group that wants to go fishing? No problem. We are the only boat in the area that can take more than 6 people on one single boat, so please give us a call as soon as you know your dates.
Tight Lines,
Captain David