Groups Of 7 to 60 People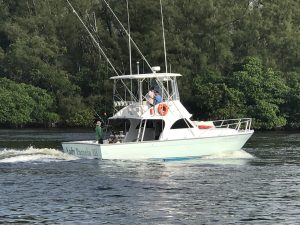 Lady Pamela III (Up to 22 People)
Yes, we are the ONLY boat in south Florida that takes MORE than 6 people! 
As the premier fishing fleet service Fort Lauderdale to Miami, we have licenses that allow us to take out large groups and parties on our luxury sportfishing boats up to 20 people. While our competitors licenses only allow them to take out up to 6 people, they are forced to p
ut you on multiple boats, thus separating your party and experience.  Not us! Our vessel, the Lady Pamela 3 is a luxury sportfishing boat that accommodates large parties and groups for your needs. Our beautiful boat is equipped with all the latest and greatest including A/C cabin, tower, and a huge cockpit for you to socialize with your family or friends as well as front deck to sun bathe.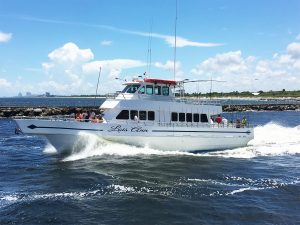 The Lois Ann (Up To 60 People)
New! Now accommodating up to 60 people.  The Lois Ann is our custom large party boat that can handle up to 60 people with a ton of room and cockpit area.  We don't just use this boat for fishing as it is used on our intercoastal tours, sunset cruises, bachelor parties and more boat tours.  The boat offers a very clean bathroom for both ladies and men as well as air conditioned salon, tables and area for sun bathing.
Take advantage of great pricing on this boat and enjoy a day on the water with up to 60 of your friends and family.
These trips are great for those with large families, corporate charters, bachelor parties. Enjoy fishing with the top captains aboard our luxury sport fisher for trophy sailfish, dolphin, wahoo, kingfish and much more.  Kite fishing off this boat is extremely exciting and with all the space, you can be sure that your party will not be cramped.
No matter the size of your party we can accommodate everyone on the same boat. Book online at the links below.
BOOK YOUR TRIP TODAY! Call Us: 954-761-8045