Fishing the Fort Lauderdale Intercoastal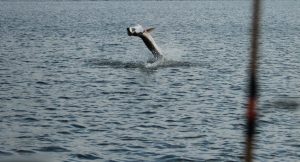 Here at Lady Pamela Sportfishing, we offer all sorts of fishing trips to suite our clients and put them on the hottest bite possible when it is convenient for them.
While the offshore fishing is certainly our speciality, we do morning and evening trips right here in our backcountry waters of the intercoastal. Our clients are pleasantly surprised at what can be caught right here in the busy canals of Fort Lauderdale and the sights to be seen.
Our intercoastal trips primarily target Tarpon, which are some of the most amazing game fish in the world. The strikes are very intense and the battles came sometimes go on for over an hour even on the most stout tackle.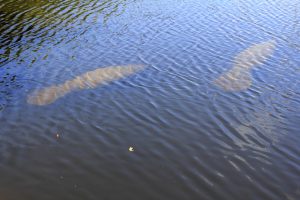 The intercoastal offers a wide array of baitfish for these monster predators along with warm waters, which is why the fishing can be red hot.
While fishing for these awesome fish, seeing sights such as porpoises, manatees, ospreys, are just some of the mother nature you will soon appreciate. The manatees look for warmer waters here in our winter and it is not uncommon to find a pack of 20 of them soaking in an "intercoastal spa".  We try not to spook them on our fishing trips, as we don't want them to leave their peaceful warm waters in search of new ones.
Enjoy the sight of an osprey as it crashes the water and pulls a fish right out with it's amazing talons. These are truly some of the coolest birds in town, not to out do the pelican. While our population of pelicans is vast, they can be seen a lot of times right here at our dock waiting for scraps or baitfish that we are throwing back.  The pelicans are pretty incredible to watch dive straight down and pull fish out of the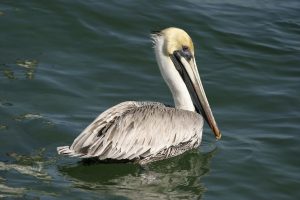 water. They primary are looking for giant schools of baitfish so they catch more than one fish for their efforts, however they are also known to hover of giant schools of mullet and pick out one big bait fish at a time.
While most of clients love the relaxing joy ride of our intercoastal trips, it is not just the fishing and wildlife to keep you entertained. You will see houses and properties of celebrities and athletes (they fish with us too!) whom have made Fort Lauderdale and Miami their home on the water.  Being able to get right up and into the properties for a close look by water is pretty surreal to see the amazing architecture of these homes. No one home is alike and there is a lot of personality with each passing home you will see.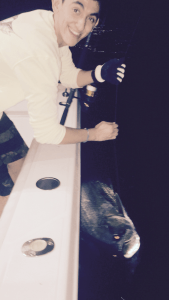 Now back to the fishing…
Captain David has been fishing the river and intercoastal waters of Fort Lauderdale before grade school. Growing up in Florida he knows all the hot spots and has been putting his clients on big tarpon for years right here in the intercoastal waters.  His clients don't have to worry about getting sea sick and when it is blowing offshore, the intercoastal waters are always calm and protected.
Some of the best time to catch trophy tarpon here in our intercoastal is in the fall and winter. In the fall we get a huge migration of mullet (baitfish) which bring a down a ton of tarpon on their back.  Once the migration passes, we usually head a little South to find the majority of the fish and then when the cold fronts start coming in, we will fish the bays with shrimp and live bait.
Our summers aren't to out done as well, however the fish are a bit smaller, but the snook are spawning and we target them on light tackle off our beaches and under the lights of the homes nearby. It is a pretty exciting time to get multiple snook.
Tarpon aren't the only fish we catch here in the Intercoastal.  We also get some monster jacks, barracua, snook, ladyfish, snapper, grouper and sharks.
If you have never fished the inshore waters of Fort Lauderdale, then give us a call. It is something I recommend all our clients to experience. The peaceful evenings and great action all packed in a a short 4 hour trip is a great way to wind down your day.
Tightlines,
Captain David