Fall Mahi Mania!
The thermometer is finally dropping a little and the barometer is rising a little to signal the start of Fall here in South Florida. However, the fish still think it's Summertime as Lady Pamela Sportfishing continues to enjoy amazing offshore fishing!
As we always do, we wish to thank all of our clients – both new and returning – for fishing with us during the month of October. We greatly appreciate your business and hope that you'll come back to join us aboard the renowned Lady Pamela II Fleet.
Our early morning trips and evening trips have been producing great catches of various pelagic species with great Mahi Mahi catches, plenty of Blackfin Tuna and some large Wahoo.
Sportfishing Report: Mahi, Mahi, Everywhere!
The on again-off again northeast winds have pushed acres of seaweed close to shore – and the Mahi Mahi with it. Mahi Mahi thrive under the patches as seaweed as it serves as a shelter for schools of baitfish and smaller fish that Mahi are more than happy to eat due to their voracious appetites. Thanks to these conditions, the Mahi Mahi fishing exploded as nearly every client was returning to the dock with Mahi Mahi. Most Mahi Mahi were caught between 400 and 1,000 feet of water on rigged ballyhoo, bonito strips and Islanders. The Mahi Mahi averaged 10 to 20 pounds with a few 25+-pounders added in for good measure.
If you want to "run and gun" for Mahi Mahi, give us a call to book our 34′ SeaVee, which is optimized to get well offshore quickly and comfortably to chase down the birds and look for structure. Come join us to take full advantage of this late season Mahi Mahi flurry.
Big Wahoos are on the Menu Too.
The October and November full moons are considered prime time to catch large Wahoos. The recent October moon phases did not disappoint as we enjoyed steady Wahoo action! One of the fastest fish in the sea, Wahoos can melt drags and break hearts if you're not ready for them. Fortunately, our crews are ready, willing and able to tame these shiny, striped bait burglars. The Wahoos have been crushing our baits trolled below the surface on planer as well as our Mahi Mahi baits: Islanders with ballyhoo in both the blue/white and red/black color combinations. We've been finding the Wahoos in the same depths as Mahi Mahi – we simply pick up the speed a bit on the troll to get the shots. Wahoos will definitely make you work for your "dinner" but, oh, is it worth it!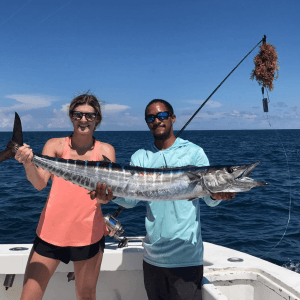 The Blackfin Tunas have also reappeared in huge schools of fish in the 5 to 10-pound range inside of 300 feet of water. We continue to catch a seemingly endless string of Blackfins on the troll using Sea Witches and Bonito Strips. We typically troll them at 5 – 6 knots. Any Bonitos that we catch are kept at the ready for shark fishing. More on that later.
Don't Forget the Sailfish:
Our Sailfish bite continues to get better and better as the temps get cooler and the bait migrations increase. We continue to encounter Sailfish trolling the rips and edges between 100 feet and 300 feet of water, although the Sailfish are closer to show to await the arrival of the Fall ballyhoo schools. The more windy the weather, the better the Sailfish bite. The Sailfish continue to pounce on Sea Witches (in blue/white and pink/white color combinations) trolled on the surface between 7 and 9 knots. and rigged Ballyhoo trolled on the surface. The bite is also solid with live baits on the kite.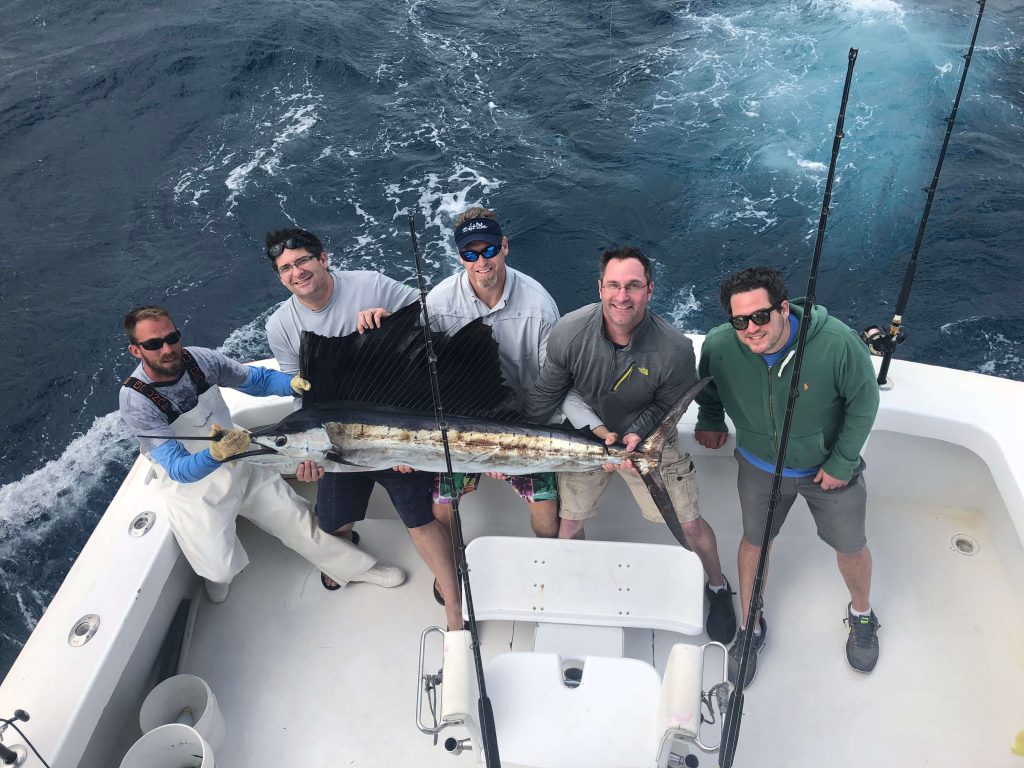 Shark Fishing Keeps Rolling Along:
The shark fishing has kept up its torrid pace as we approach the Fall Frenzy. We continue to put clients on big sharks, with each trip landing at least one shark, with most trips catching several. Hammerhead Sharks continue to be the favorite of our clients as we caught a big Hammerhead just this morning!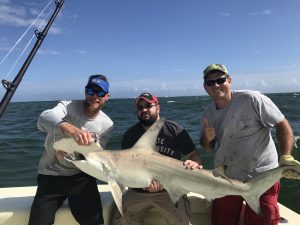 Hammerheads are one of the most-prized and unique sharks in the Atlantic Ocean and always seem to capture the imagination of our clients! Caribbean Reef Sharks and Silky Sharks have been active but we're also seeing the influx of Blacktip Sharks and Spinner Sharks feeding near shore on the migrating mullet schools. The best shark baits continue to be Bonito or Kingfish dropped down in 300 feet of water. We've also been fishing live and cut mullet for the Blacktips and Spinner Sharks.
Drift Fishing Report:
The Lois Ann leaves the dock full…and returns even fuller with stuffed fish boxes and tired arms.
Our day trips have been full of Kingifsh, Bonitos and Blackfin Tuna with the best bites on ballyhoo, sardines and butterfly jigs that get deep into the water column. Our October night trips produced Mangrove Snappers and Mutton Snappers, especially around the full moon. Squid and live baits have been the best way to get the Muttons to eat but they can be finicky and absolute beasts once you set the hook. The Night Trips will only get better as the bait migrations commence.
Come join us while this incredible Mahi Mahi and Wahoo bite is on! Plus, we're seeing more and more Sailfish each day! Call us to book a trip and let the Lady Pamela II Team introduce you our exceptional Fort Lauderdale offshore fishing. Remember, it's not too late to reserve your fishing trip while you're in town for the Fort Lauderdale International Boat Show but you need to hurry as the trips are selling out fast.
Tight Lines,
Captain David