Online $35 Drift Fishing Special!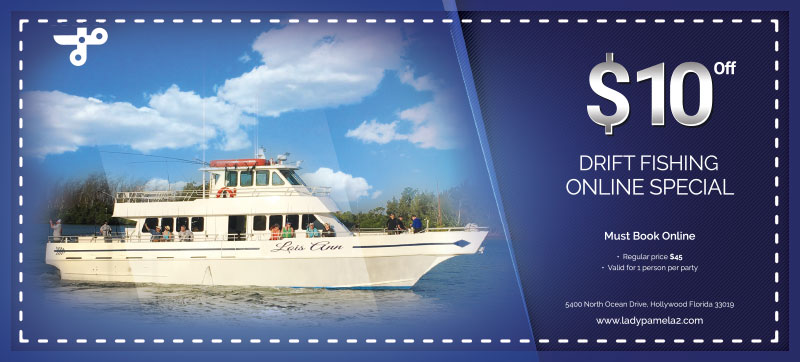 Take $10 off our drift fishing trips on the weekdays. Normally $45.00
Valid for 1 person per party.
Use Coupon Code "Yellowtail10" during your SECURE checkout below to take advantage of this offer now.
Trip Length: 4 Hours
Trip Times: 8:30am-12:30pm / 1:30pm-5:30pm
Boat: Lois Ann 65′
Target: Small Game Species: Snapper, Grouper, Trigger Fish, Grunts, Porgies, Jacks (big game species always a possibility)
On our drift fishing trips (8:30AM-12:30PM / 1:30PM-5:30PM) we load the boat with top of the line tackle, bait (squid, ballyhoo, sardine) and head 1-2 miles offshore anywhere from 70 – 150 ft of water on the reef. Once lines hit the water, expect to catch: Snapper, Group, Trigger Fish, Grunts, Amberjacks. If you're lucky enough, you might even hook a Sailfish in shallow. Fishing in Fort Lauderdale is seasonal, every 2 – 3 months a new species migrates to our waters.
$45/Person4 Hour Drift Fishing Trip
5 Hour Night Snapper Fishing Trip
Trip Length: 5 Hours
Trip Times: 7:30pm-12:30am
Boat: Lois Ann 65′
Target: Yellowtail Snapper, Mangrove Snapper, Mutton Snapper, Lane Snapper, Vermillion Snapper
Our night time snapper trips go out daily and are a great way to get on some of the best eating fishing in the ocean including Yellowtail Snapper, Mangrove Snapper and Mutton Snapper. We are the only boat that gives you an extra hour as well as Anchoring and Chumming in our secret spots to give you the best chance to fill your coolers.
$45/Person5 Hour Night Snapper
BOOK YOUR TRIP TODAY! Call Us: 954-761-8045